Thousand Trails Review [Is Membership Worth It?]
Who would turn down a free membership to Thousand Trails? With the purchase of my 5th wheel I was offered a single zone camping pass for 1 year. Read on for my review and experiences with Thousand Trails.
A little about Thousand Trails
Before I can give a review of my experience with Thousand Trails. I should explain a little about how their membership works and what different membership levels are offered. If you have visited the Thousand Trails website you probably know there isn't much information there if you are not already a member.
Thousand Trails has offered many membership options over the years, and right now there are over 100 different membership levels active. RVLove has done a great job explaining in detail the membership types and how to get the best deal, so I will just give a brief overview here.
Which membership level to choose?
Thousand Trails currently offers 3 levels of membership. With each upgrade in membership level you will receive more benefits.
Camping Pass (zone)
Elite Basic
Elite Connections
What are the key differences?
The 2 most important differences between levels are.
Number of nights of free camping – Camping Pass members are limited to 30 free nights, where elite members are unlimited.
Number of parks – Camping pass members are limited to 1 zone (additional zones can be added to your membership) while elite members have access to every campground in the Thousand Trails system.
Another difference between levels is the booking window, a camping pass member can book 60 days in advance compared to 180 days for an Elite Connections member.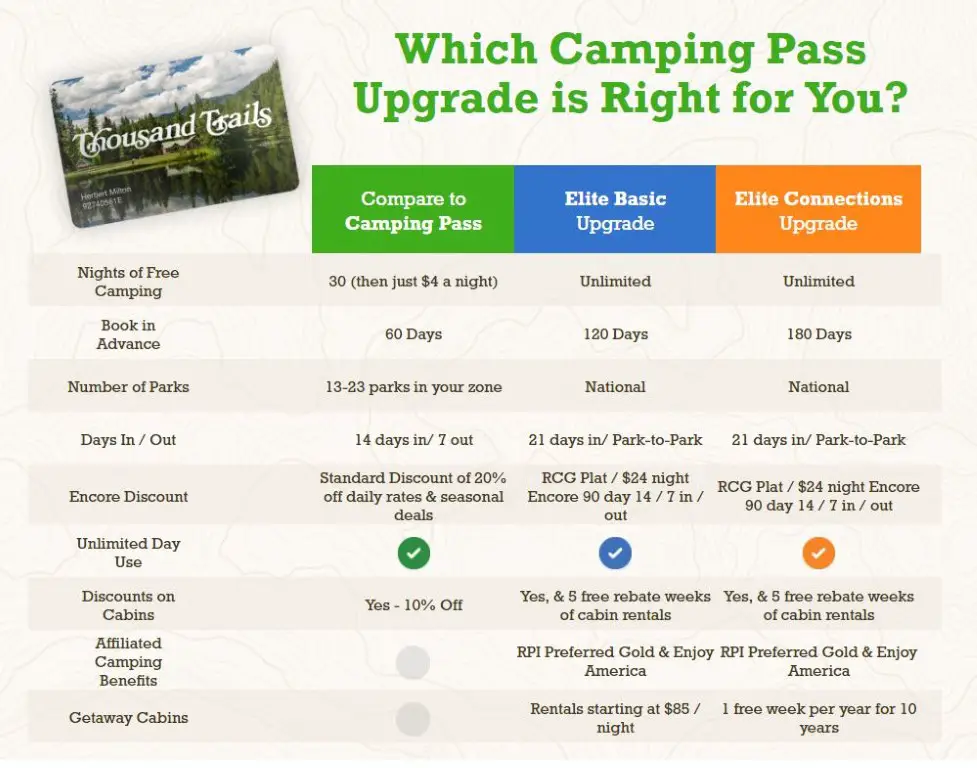 Thousand trails camping zones
For Camping Pass members, you must choose a zone when signing up. Each zone contains between 13 and 23 campgrounds. When signing up there are ways to get a second zone for free, or additional zones can be added for $49 each.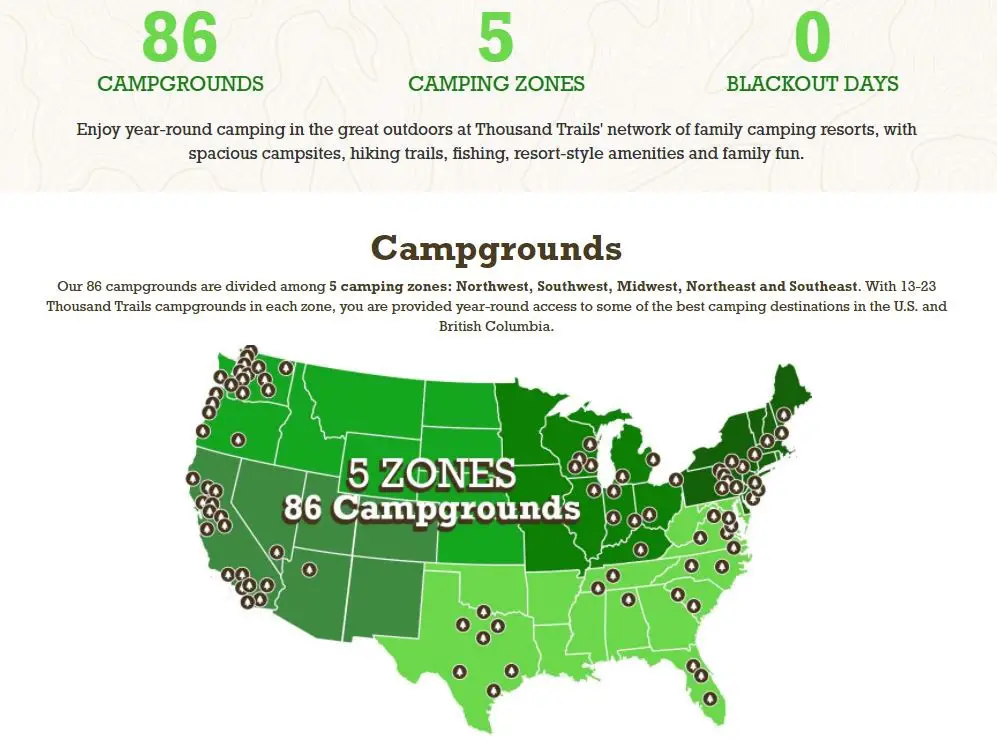 Choosing your Thousand Trails camping zone
For me the decision of which zone to choose was somewhat difficult. I live and Ohio, and as you can see in the map above, Ohio boarders 3 different camping zones with only 2 campgrounds in the state. We camp mostly on the weekends, but like to take 1 or 2 longer trips during the summer. We had been planning on taking a trip to the beach this summer so we decided to use the Thousand Trails membership for that trip. This meant we would either choose the Northeast or Southeast zone. The Northeast zone had several options near the beach and within a 1-day drive from our home so we choose that zone.
How do I find a campground and make a reservation?
How to pick a campground
I give Thousand Trails a "5 Star" rating for their website when it comes to looking for campground information. Each campground is listed by state and shown on an interactive map of the country. Each campground has its own page with the following items.
A short description of the campground
Pictures of the campground
A list of the amenities
A Google map of the area.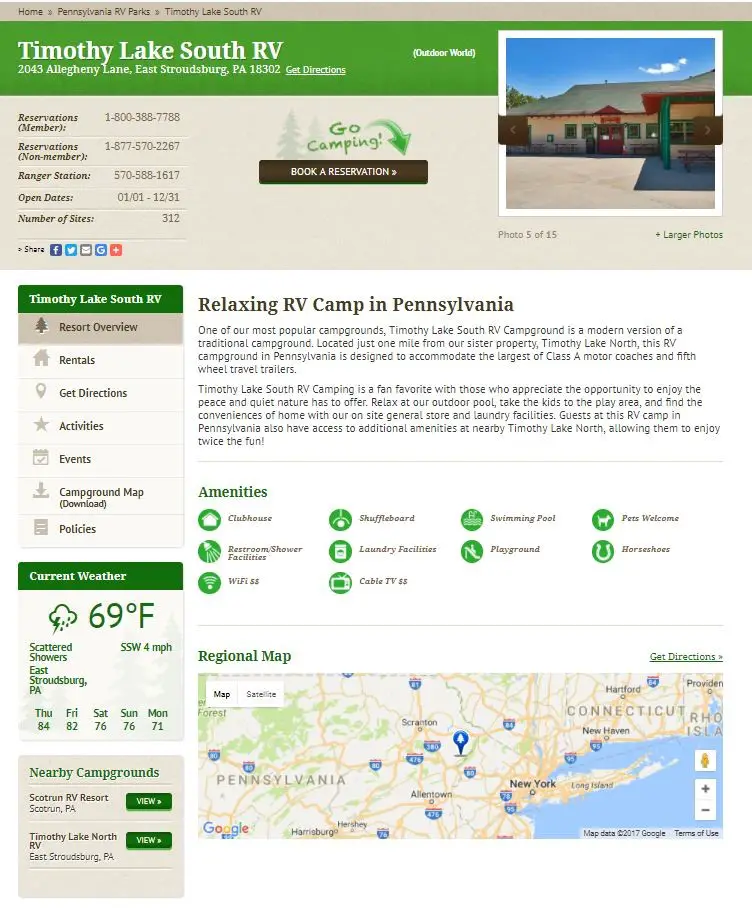 How to make a Thousand Trails Reservation
There are 2 ways to make a reservation with Thousand Trails. You can either make a reservation over the phone or use the website.
Making your reservation online is an easy process. From any campground's page you simply press the "Book A Reservation" button. This takes you to a page where you enter the dates, number of people, pets and some information about your RV.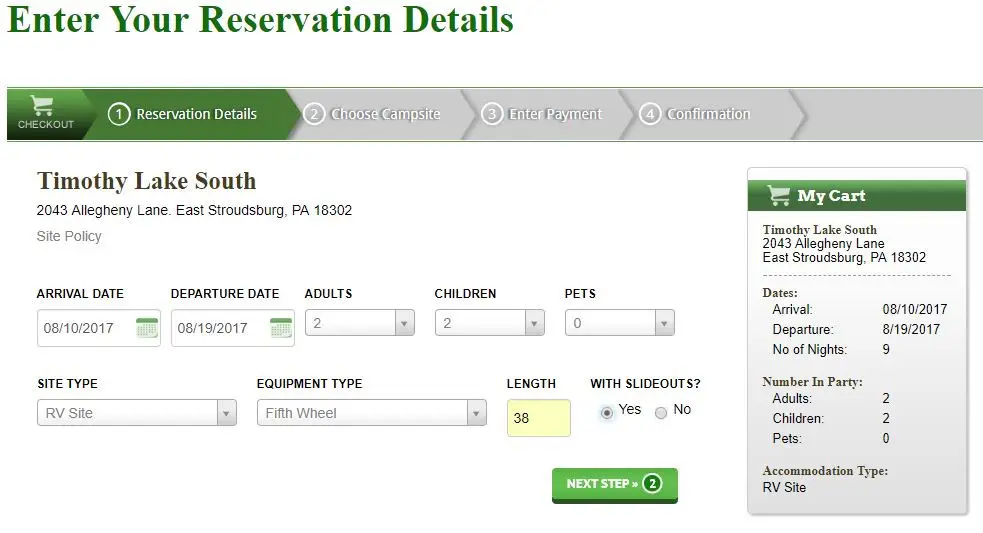 After entering this information, you are taken to a page that displays the availability for the desired dates.  This list will usually include
Handicapped Site
Site
And any cabins or cottages at that campground
At this step you will press the "Select Site" button under "Site" and you are taken to the payment page.  Payments are only required for cottages and cabins, for an RV site no payment information is needed.  The last step is the confirmation page.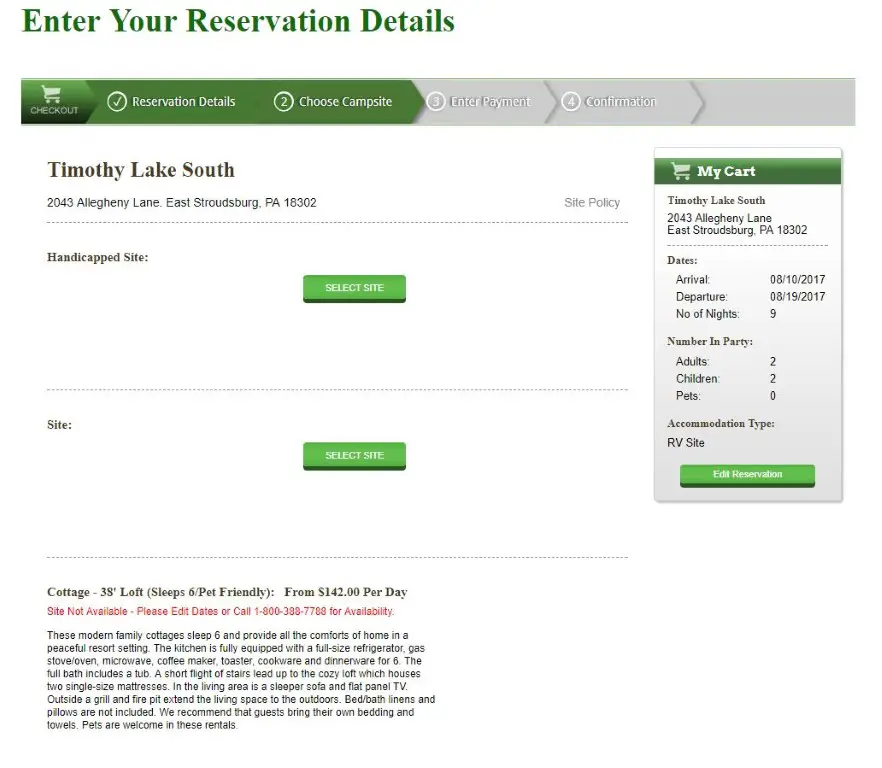 To summarize the reservation process is quick and easy, I wish more campgrounds had a reservation system that worked this well.
One major item to note is that you will never select an actual campsite when making a reservation with Thousand Trails.
All Thousand Trails Campgrounds work on a first-come-first-serve system and sites are selected when you check in.
What did I think of my Thousand Trails experience?
Because the camping zone I selected did not include my home state I only used my membership for 1 trip. My trip involved stays at 2 Thousand Trails campgrounds. Timothy Lake South in East Stroudsburg, PA and Sea Pines in Cape May Courthouse, NJ.
Planning our trip
My wife and I had narrowed our destination down to Lake and Shore or Sea Pines. Both campgrounds are in New Jersey between Atlantic City and Cape May. Lake and Shore had a nicer pool with some water slides for the kids, but both campgrounds had a pool as well as a swimming / fishing lake.
We decided on Lake and Shore as our first choice and Sea Pines as a backup in case we could not get in at Lake and Shore.
Making the Reservations
Knowing that we were going to be staying in a campground near the ocean during peak season I wanted to make my reservation as early as possible. I set a reminder on my phone calendar to notify me exactly 60 days prior to the start of my trip. This way I could make my reservation as soon as my booking window opened.
The week before my booking window opened I had checked both Lake and Shore and Sea Pines on the Thousand Trails website and sites were available the week before I planned to go. On the day my booking window opened I logged in and went to the Lake and Shore page to make my reservation.
There were no sites available.
I thought I would double check by calling the reservation number and see if maybe the site just wasn't working. I spoke to a representative who told me that Lake and Shore was indeed completely booked, but Sea Pines had availability. Knowing that Sea Pines was already my backup location and not wanting to lose out on it too I made the reservation over the phone and quickly received an email from Thousand Trails confirming my reservation.
After booking our site in New Jersey we spoke to another family with a Thousand Trails membership. We found out that it is best to arrive early to have more sites to choose from. We decided to leave Ohio Friday and stay overnight somewhere in Pennsylvania so we could get to the campground early Saturday afternoon. Looking at campgrounds along our route we decided that Timothy Lake South would be a nice stopping point.
About 2 weeks before our trip I logged in to the Thousand Trails website again and made a reservation for Timothy Lake South.
Summary of the reservation process
Book as early as you can! Especially for high demand locations in peak season.
Making a reservation is quick and easy. Both over the phone and on the website.
Review of Timothy Lake South in East Stroudsburg, PA
Our stay at Timothy Lake was only 1 night on the way to Sea Pines. We planned to leave Friday afternoon and arrive in time to get settled in, have dinner and then get to bed so we could finish our trip to NJ in the morning.
We got off to a later start than we had planned so when we arrived we had about 1 hour of daylight left. We knew we would need to get in and find a site quickly or we would be setting up in the dark.
Checking in and finding a site
When you arrive at Timothy Lake South there is a gate with a keypad and a call box. Press to call button and you will get someone in the camp office. They will open the gate and you can pull up to a parking area near the office (if you are already registered you are given a code for the keypad).
Once inside the office I was given a list of about 5 sites that were not usable because either the water, electric or sewer was not working (all sites at Timothy Lake South are full hookup). I was told that other than those sites I could choose any open site and that there were plenty available. She also told me that after I got settled in I should come back and let her know which site we choose and she would give me my pass for the car.
As soon as we began driving though the campground I realized 2 things.
There were a lot of seasonal campsites with permanent structures.
Many of the sites were heavily wooded with branches sticking out over the parking pads.
Will we ever find a site?
The right side of the campground appeared more open so we started there looking for a site. Unfortunately, it appeared there were no sites open. We circled that side of the campground about 3 times before deciding to give up and try the other side.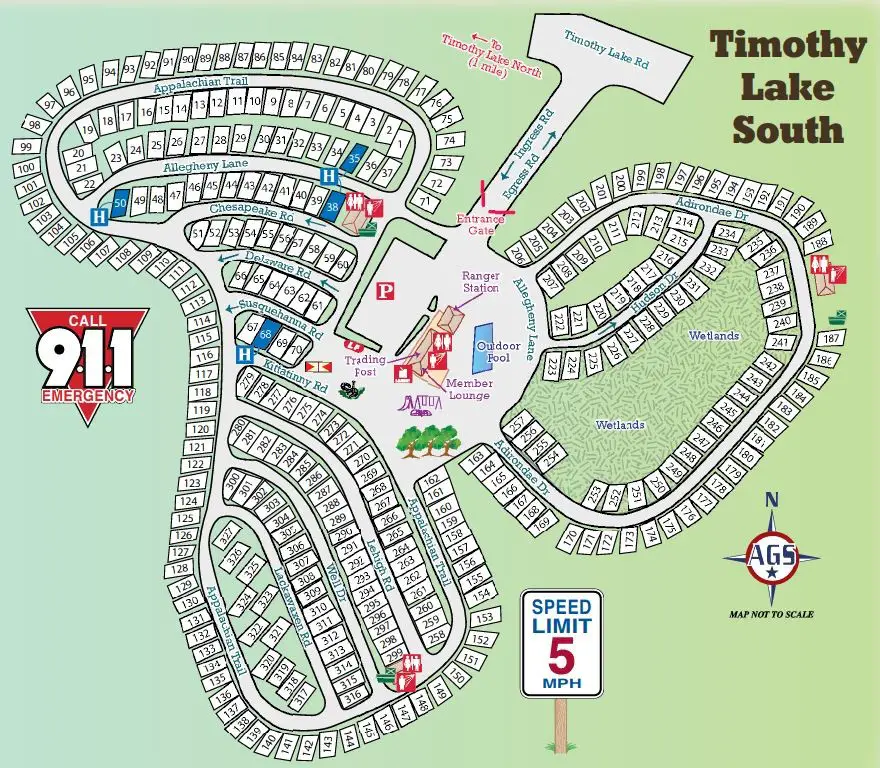 By now it was getting darker and we need to find a site quickly. I circled 2 or 3 roads again not finding somewhere to park my 37' fifth wheel. Finally, we found an open pull-through site that looked large enough, but the trees had grown over the site making me a little un-easy about parking there. We decided to go for it, so my wife got out with a flash light to watch the branches while I pulled in.
The site was pretty level, so getting parked and leveled out was no problem. Most of the sites appeared to be level which is a nice thing to see.
After getting setup I went up and checked in at the office. On my way, I talked to a gentleman who had just arrived with a 41' triple axle toy-hauler. Knowing what I know now, if I were him I would have stayed in the parking lot overnight and found a site in the morning.
Timothy Lake South Facilities
Bath Houses: I visited one of the bath houses. I would rate it a 3 out of 5. They are about average for a campground, but since every site has full hookups I expect most campers don't use the showers.
Camp Store: The camp store was a nice size and seemed well stocked with both food and gear essentials. If you forgot something at home you should be able to find it there.
Swimming Pool: We didn't use the pool, but I did take a walk around. The pool was large clean and had a lot of seating.
Playground and other activities: There was a nice playground for kids near the pool. There were a couple horse shoe pits, as well as a pair of shuffle board courts that app looked to be in good condition. I believe equipment could be rented from the camp store for free.
Overall Opinion of Timothy Lake South
I only spent 1 night, so I may have missed a lot, but the campground seemed to be well maintained and I would probably stop again if I was passing though. One thing to note is that although the map shows over 300 campsites, about ½ of them are taken by seasonal campers so the options open to someone stopping in are much less.
Arrive early to make finding a site easier
Wi-Fi and cable are available, for a fee to at third party provider
Watch out for sites with low hanging limbs
Nice Pool and other areas for activity
Review of Sea Pines in Cape May Courthouse, NJ
We arrived at Sea Pines around 3pm on Saturday. The traffic through Philadelphia and on the Atlantic City Expressway delayed our arrival by about 2 hours.
When pulling into the campground the road splits into 2 lanes, the right lane has a keypad for registered campers and the left lane takes you up to a small ranger station where you check-in.
The ranger was friendly and welcomed us to Sea Pines. She explained that it was a busy day and there were about 10 other campers who were driving around to find a site.
I was given 2 maps and some advice to help find a site.
The first map was the official map of the campground printed in full color on glossy paper. One thing I noticed right away is that the map online showed 2 types of sites, Full Hookup and Water & Electric. This new map had 3 types, Seasonal, Full Hookup, and Water & Electric. I didn't do the math, but I would guess that about 80% of the full hookup sites are taken by seasonal campers.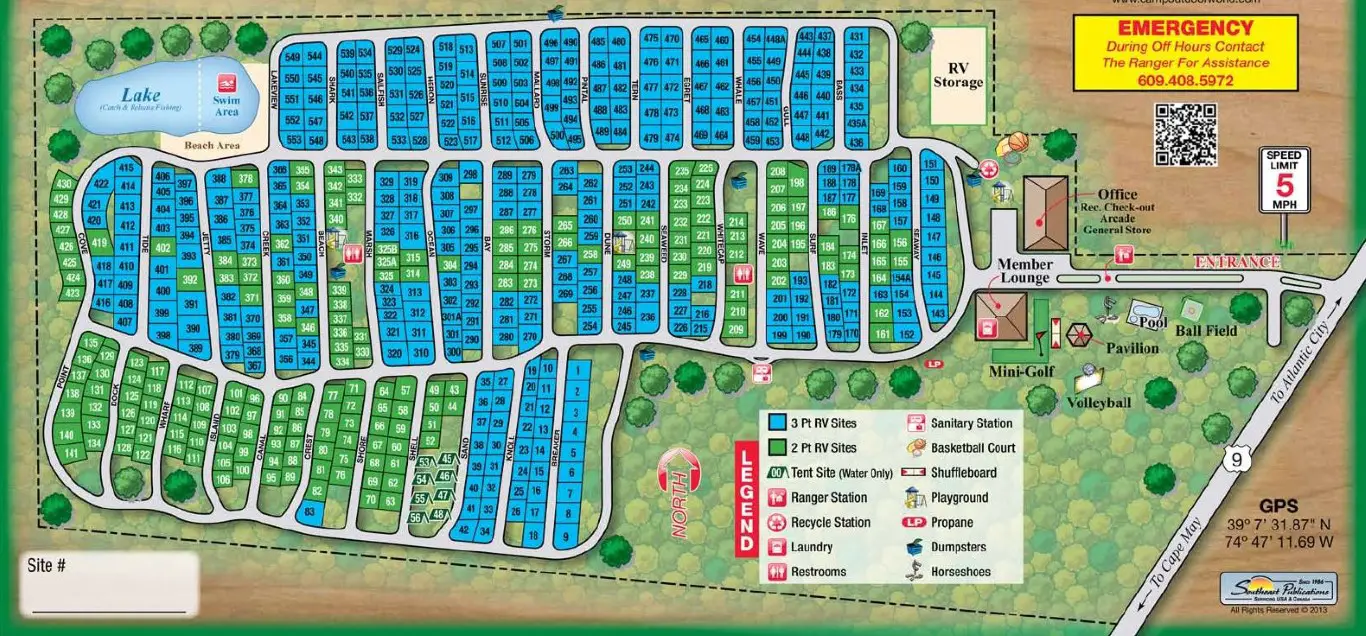 The seasonal sites are shown in yellow on the map below.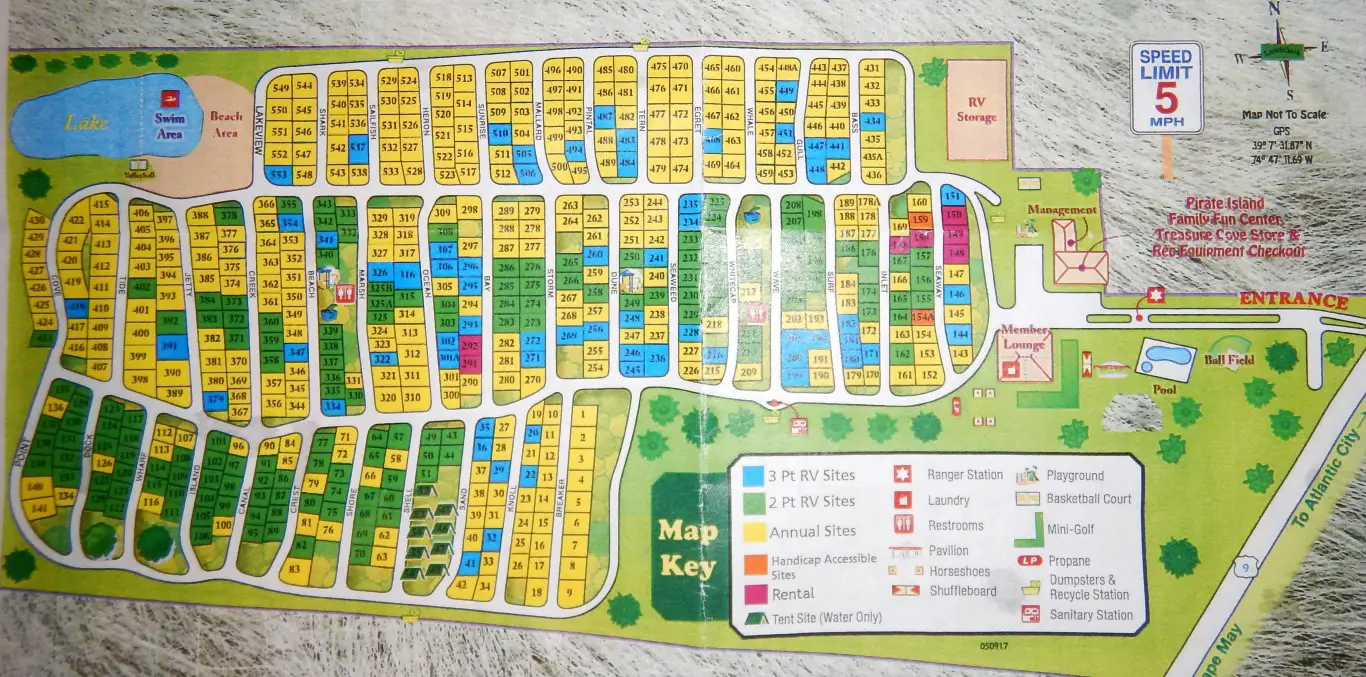 The second map was a photo copy of the first. It had about 8 sites highlighted. The highlighted sites were ones that were possibly available (if someone else hadn't taken them yet). Only 1 of the sites highlighted had full hookups. I was told that they offered free pump-outs on Monday, Wednesday and Friday for campers in the water & electric sites.
Checking in and finding a site
We decided to head toward the full hookup site first hoping it was still open. After entering the campground, you must turn left or right, once you turn off the main entrance the road quickly changes from asphalt to packed sand. The entire campground is heavily wooded and some of the turns are tight in a larger RV. The abundance of trees does make the campsites feel more private, they are also trimmed to keep branches away from the roads and parking pads.
We made it to the full hookup site and discovered it had already been taken. We decided to check some other areas that showed full hook sites on the map, hoping a site had opened that the ranger station didn't know about yet.
Unfortunately, after about 30 minutes of driving the campground we decided to take a water & electric
site. The site was rather narrow and it seemed as if the seasonal sites behind and next to us had encroached onto ours. Since we had planned to stay for 7 nights we decided to only setup the essentials. We thought that the weekend crowd would be leaving on Sunday and we could change sites.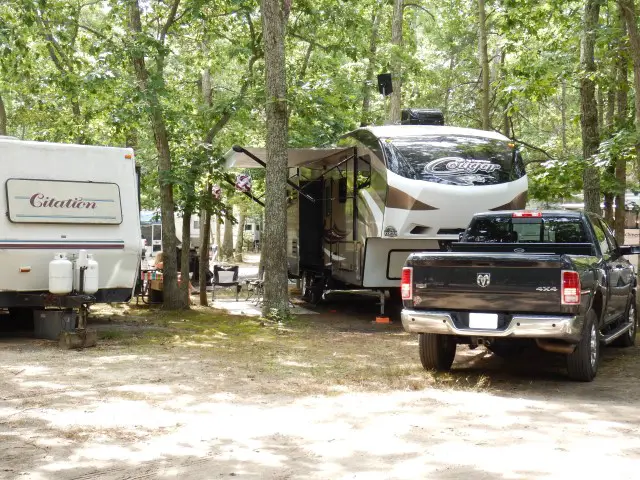 After unhooking our 5th wheel and connecting the water and electric I walked up to the ranger station to notify them of the site we selected. I was given 2 car passes, the code to the gate and some park information.
Our stay
As I mentioned the site we had selected was narrow due to the expansion of seasonal sites surrounding it. As we rode our bikes around the campground during the week we noticed that most the seasonal sites were larger than the non-seasonal. Some of the seasonal sites were 2 to 3 times larger with patios, sheds and one even had a tiki bar and gazebo.
After settling our children were restless from all the time in the car so we went to let them burn off some energy in the pool. We arrived around 5pm and the DJ who had been playing all day was just wrapping up his set. The park seems to try and schedule some entertainment for the pool area on Saturdays. The pool, splash pad and playground are all together in a fenced in area near the camp store and arcade. The pool was crowded, but we were still able to find a couple of lounge chairs.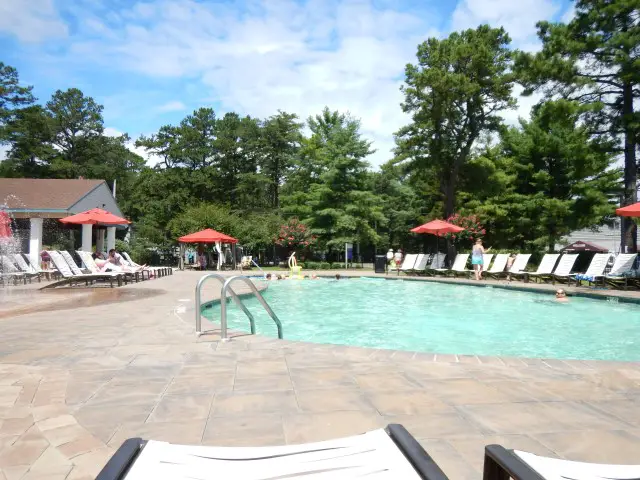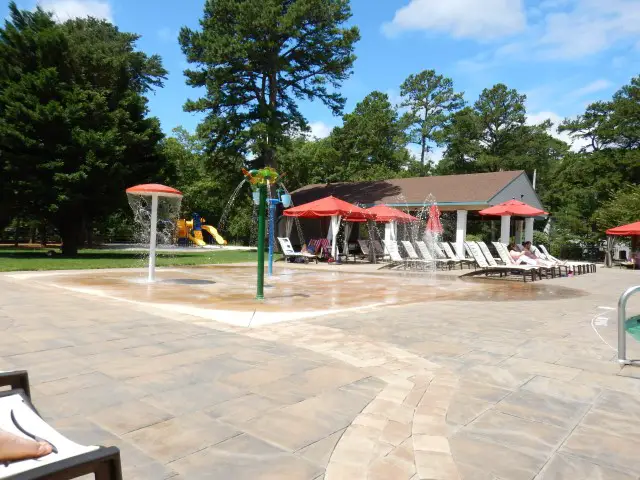 Changing sites, The race is on!!!!!
At about 10am Sunday we went for a bike ride to see if any full hookup sites had opened up. We found about 3 that were open. One of them was only 3 road back from the pool so we decided to move there. We had already seen a few new campers driving around looking for sites so we knew we would have to act quickly.
My wife stayed there on here bike to guard the site while I went back to pack up as quickly as I could. I threw our camp chairs, patio mat, table cloth, and water hose in the truck and then closed the slides and awnings. I asked our children to follow me on their bikes to the new site so they could help guard it while I hooked up the camper and drove over.
When we arrived back at the new site my wife told me that there had already been 1 person who stopped to see if the site was open. We set our gear down and set chairs in the middle of the parking pad for the kids.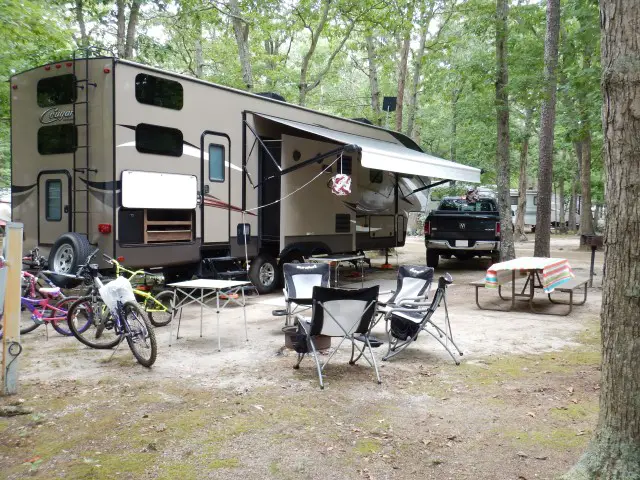 I drove back to the old site and finished securing a few items inside the RV before hitching up and heading over to the new site. I found out that second camper had stopped and asked about the site before I got back. The site didn't have a lot of extra length so backing in with all the trees was a little bit of a challenge. Once we setup our gear on the new site we were quite happy with our accommodations for the week.
Local Attractions
The main reason to choosing this campground was its proximity to the beach, but since we had never visited New Jersey, we decided to see as much as we could during our stay. In under and hour there are many places to visit and things to do. Working from north to south here are the places we visited.
Atlantic City – Although it is not quite as busy as it once was, the boardwalk still has a lot to see and do. Our children loved the Ripley's Believe it or Not, and my wife had a few minutes to hit the slots in one of the casinos.  There is also an outlet mall in the middle of town as well as a new Bass Pro Shop.  The beach at Atlantic City is one of the few free beaches on the Jersey Shore.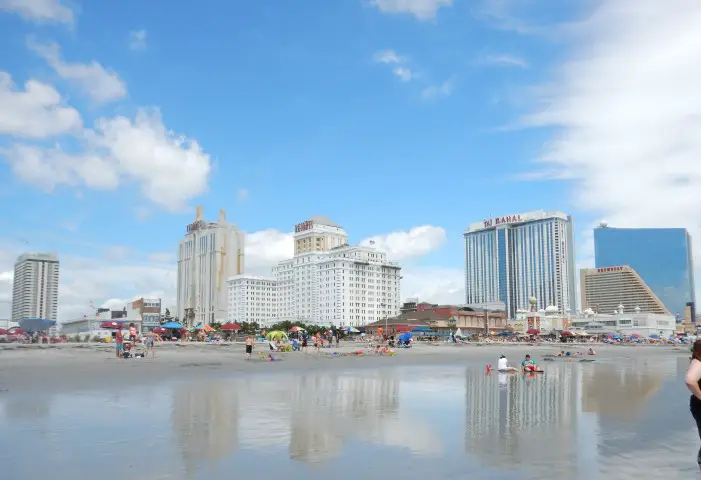 Ocean City – If you are looking for something a little more laid back Ocean City might be the place for you. The boardwalk still has plenty to do including several mini-golf courses and a small amusement park.  The beach is nice and not as crowded as some of the others.
Strathmere and Sea Isle City – Both these ocean side communities have nice beaches and local shops and restaurants.
Avalon and Stone Harbor – These communities are part of 7 mile beach. If you purchase a beach tag at in either community it is accepted at the other.  Again, these communities have plenty of local shops and restaurants to visit.
Wildwood – This community may be most active. The large boardwalk has a variety of shops as well as a water park and several amusement piers.  This community also has the most hotels and things to do.  The Wildwood beach is another free beach.  The Wildwood beach is the widest I have ever been on.  At the widest point on the Wildwood beach the water is about 5 football fields away from the board walk.  Wildwood takes advantage of the large beach by hosting events right on the beach including, concerts, motor cross and monster trucks.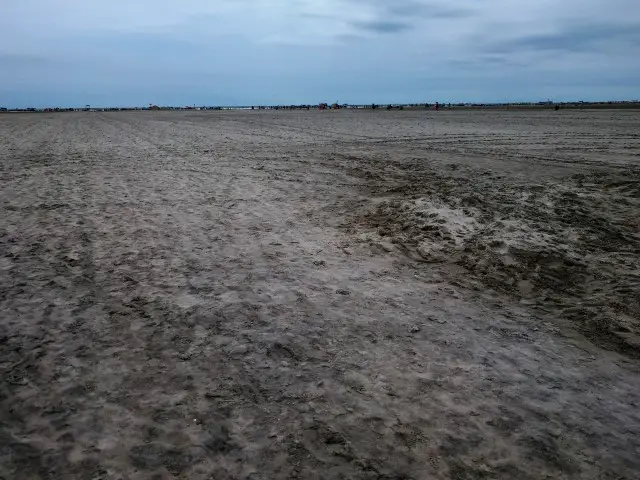 Cape May – The opposite of Wildwood, Cape May is a historic town filled with colorful homes and bed and breakfasts. Walking some of the streets of Cape May is like stepping back in time.  You can even take a horse drawn carriage ride through town.  Cape May is home to several unique attractions including the country's only Coast Guard Boot Camp.  The Cape May Point State Park has a Light House, World War II bunker and 2 mile long nature trail.  We got caught in a rain storm ½ way through the trail, but still enjoyed our time there.
Sea Pines Facilities
Bath Houses: Again I would rate the bath houses about a 3 out of 5. They about average for a campground. Nothing spectacular, but reasonably clean and well maintained.
Camp Store: The cap store was stocked with food RV supplies and some toys and games. The also had a large selection of ice cream and frozen treats for those hot days by the pool.
Swimming Pool: The pool was large enough that it only got really crowded on the weekends. Surrounding the pool were lounge chairs, tables, umbrellas and even a couple of cabanas if you got there early enough to snag one. Right next to the pool was a splash pad with several water features for younger children, although my 10 year old still had fun getting water dumped on his head from the buckets.
Lake: At the back of the campground is the lake, it is divided into 2 sides. 1 side has a sandy beach with lounge chairs for swimming and the other has a dock for fishing. Even in the middle of summer when some lakes get nasty with algae growth this lake was clean and free of algae.
Playground and other activities: Inside the camp store free rental equipment is available for use at the pool, shuffle board, horse shoes, and mini-golf. The mini golf course isn't quite the same as the ones you will find in Wildwood or Ocean City, but it is very well maintained and we played it several times during our stay.
Overall Opinion of Sea Pines
We really enjoyed our stay at the campground. The facility was well maintained and is in a great location to visit all that southern Jersey Shore has to offer. The pool and playground areas are great for children and the wooded sites give you a sense of privacy even though you are in a very large campground.
The biggest negative of this campground is the small number of full hookup sites available. If you have a large RV, I would suggest driving the campground with a car or your tow vehicle or riding your bike to look for a site. The trees create a nice atmosphere, but I saw more than one large 5th wheel take several attempts just to make a turn in the campground.
Overall Opinion of my Thousand Trails Experience
Positives:
Once you have purchased your membership you can camp for free.
Easy booking process through a well-designed website.
Choice of site when you arrive and the option to change sites if you don't like where you are at.
Negatives:
Camping Pass Members may have availability problems at peak season due to elite members being able to book earlier.
Finding a site can be difficult and frustrating at a campground that is near capacity.
If you are unable to stay enough nights or Thousand Trails doesn't have a campground where you want to go, you have spent the money on a membership you aren't using.
Conclusion
I have mixed feelings on Thousand Trails. The bottom line for me is I got a great 1 week vacation out of my free membership, but I don't not think I will be renewing next year.
I enjoy the convenience of booking a site ahead of time and knowing exactly what to expect when I arrive. Most of my camping trips are within the state of Ohio and with only 2 campgrounds Thousand Trails doesn't offer me many places to travel. Some things that would be included at other private campgrounds like cable or Wi-Fi connections are paid options at many of the Thousand Trails resorts. While not a deal breaker this is another factor in my decision not to renew.
If you think Thousand Trails might be a good fit for you and your camping style I would suggest starting with a Camping Pass membership. It is a great way to "test the waters" and find out if Thousand Trails is right for you.
If you have any questions about my experience with Thousand Trails, or if you would like to share your own experience, please leave a comment below.
Thanks for reading and Happy Camping.