Best Cookware for RV Kitchens
There are a variety of items you need for cooking in your RV. From Pots and pans for cooking on the stove to stackable storage bowls and coffee makers here are my picks for the best items to stock you RV kitchen with.
Best Pot and Pan Set for Your RV
When it comes to cookware for your RV there are 2 key features to look for.
First – You want quality, I have tried cheap items because they were light weight, but it's not worth it.
Second – Look for pieces that stack or collapse. Storage space is always at a premium in an RV.
Magma 10pc Nesting Induction Cookware Set
Key Features
If you are looking for a quality set of pots and pans for your RV that will also store easily the Magma 10pc Stainless Steel Cookware set is just what you need. The 10 pc set includes everything you should need and stores in less than ½ cubic foot of space. The Set is available in multiple colors and coatings.
Pieces in Set
10 inch diameter Sauté/ Fry Pan
Lid for Stock Pot/ Sauté Fry Pan
Lid that fits all Saucepans
1-1/2 qt. Saucepan
2 qt. Saucepan
3 qt. Saucepan
5 qt. Stock Pot
2 Removable Handles
"Bungee" Storage Cord
Common Features
The Magma set is very well made. All versions of this RV pot and pan set are constructed from corrosion resistant stainless steel. The bottoms are triple clad and milled flat for even heat distribution on gas electric or ceramic cooktops. The nesting design allows all the pieces to store in less than ½ cubic foot of space and the bungee storage cord keeps the set secured when traveling.
The set is safe for cooking with fire, electric, glass ceramic, induction and in the oven with the handles removed. They are also dishwasher safe.
The set was selected as a Good Sam Club "Product of the Month" and was a "Gear of the Year" winner from Practical Sailor & Power Boat Reports. It comes with a 1 year warranty
Stainless Steel Triple Clad Construction
All the Magma cookware sets are built from 18-10 stainless steel. Just like high end cookware for your home the stainless steel construction will last a lifetime. The non-corrosive material will keep it's shine for years to come.
Triple Clad bottoms made by sandwiching a layer of aluminum between layers of stainless steel. The aluminum layer distributes the heat evenly to eliminate hot spots. Finally, the bottoms of the pots and pans are machined perfectly flat to provide even heating even with ceramic cooktops.
Internal Coating
3 internal coating options are available
Stainless Steel – The stainless steel internal finish provides the most durable surface.
Ceramica Non-Stick – Ceramica is a heavy duty coating that is non-toxic, PFOA and PTFE free. The surface is non-stick and remarkably easy to clean. It will not stain, peel, blister or flake.
Teflon Non-Stick – Teflon was developed by Dupont in 1938 and has been the standard for non-stick cookware since the 1960s. Nothing will stick while cooking and Teflon cleans easily.
External finishes
4 external finish options are available
Stainless Steel – Like the internal option the highly polished stainless steel surface looks great and provide the most durable surface.
Magma Red Enamel – This durable enamel coating adds a pop of color to your cookware set.
Cobalt Blue Enamel – If red isn't your color the set is also available in cobalt blue.
Jet Black Enamel – The jet black enamel has a classy modern look.
Interchangeable Lids and Handles
Each set comes with 2 lids. The larger lid will fit the 5 qt stock pot, and the 10" sauté / fry pan. The smaller lid fits all 3 sauce pans.
2 removable handles are included with the 10 piece set. The handles attach to the 3 sauce pans as well as the sauté / fry pan.
The stock pot has permanently attached metal handles. The handles must be removed when the pieces are used in the oven. If you find 2 handles aren't enough spare handles are available.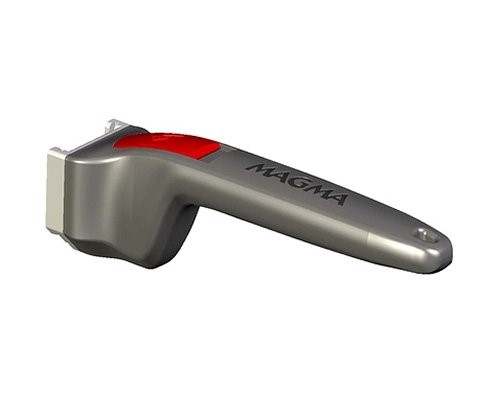 Accessories
Several accessories are available to enhance the 10 piece set.
Colander, Steamer, Crab and Pasta Cooker – This stainless steel accessory is used in the stock pot and is perfect for cooking pasta, steaming shell fish or washing and straining vegetables. Best of all it nests with the rest of the set so no additional storage space is needed.
Sauté / Omelet Pan – This omelet pan is designed to work will all cooktops including induction and features the Ceramica non-stick coating. The pan uses the same handle and nests with the rest of the set.
Pot Protectors – For an added layer of protection and to keep your cookware looking like new a set of No-Skid pot protectors is available. The set includes a small, medium and large protector. You slide them between your pans when nesting. The protectors can be used with most other brands of cookware or to protect plates and bowls. You can also use them as trivets when serving.
User Impressions
The set is solid feeling
The handles lock securely
The set stores compactly and easily
They work great on both gas and induction cooktops
The lid handles do get hot, so you may need a pot holder to remove them.
Summary
No matter which set you choose, you can't go wrong with the Magma 10 Piece Nesting Cookware Set. For the most durability I would suggest the stainless steel interior and exterior set. I would also like to note that non-induction versions of these sets are also available. I would suggest getting the induction version as more RVs are starting to come with induction cooktops and with the portable induction tops already very popular. With the induction set you will be safe for the future.
Best Electric Griddle for Camping
Presto Tilt'nDrain BigGriddle
One appliance that gets used on almost every camping trip is our electric griddle. If our campsite has electric, you can bet we will be cooking breakfast on the electric griddle at least once during our stay.
Electric griddles are great for pancakes, eggs or bacon in the morning. You can set the electric griddle outside on a table and enjoy nature while you cook.
Large Cooking Surface
The BigGriddle features a huge cooking surface perfect for cooking for the whole family. The griddle cooking surface is 18.5" x 15". Large enough to cook 12 slices of French toast at a time
Tilt Function
When cooking pancakes you want a nice level surface, but when frying up a couple pounds of bacon you want the grease to run to the drip tray. With other griddles you have to stack something under the legs to tilt the griddle, but not here. By simply sliding the sides of the griddle out the font lowers allowing all the grease to run to the removable drip tray.
Easy to Clean
The griddle is constructed from a heavy aluminum base with a non-stick coating. When you are done cooking simply remove the drip tray and temperature control. Then the entire griddle can then be submersed in water. If your RV is equipped with and outdoor shower, simply squirt a little dish soap on the griddle wipe it off and then rinse it with the shower and it's ready to put away for next time.
Overall Size
The dimensions of this griddle are 23" x 17.25" x 3.5" so make sure you have somewhere to store it before you choose this griddle. If you like the features, but want something smaller move down to the smaller model below.
Best Mid-Sized Electric Griddle
If you like the features of the BigGriddle, but are only cooking for a few people the 19" Electric Tilt'nFold Griddle might be perfect for you. You still get the tilting function, the non-stick cooking surface and the fully immersible capability making it easy to clean. The only thing you don't get with this model is the large cooking surface.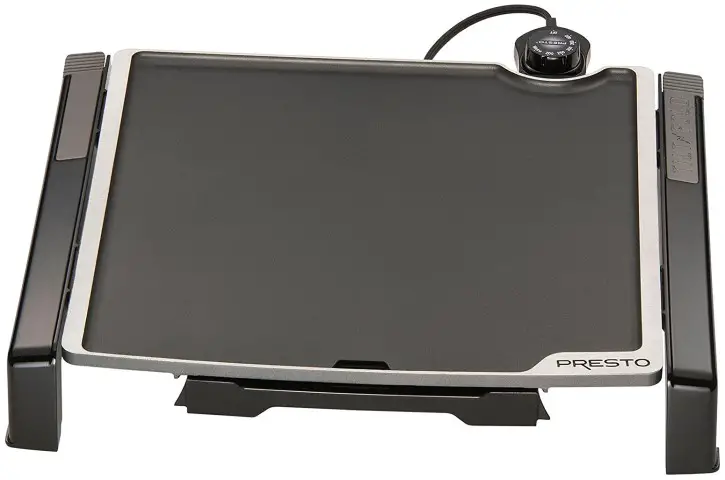 The cooking surface of the 19" model measures 17.75" x 14.3". When folded it only takes up 19" x 15.18" x 1.87". If you still want a large cooking surface, but are running low on storage space this might be the perfect model for you.
Get the 19″ Tilt'nDrain
Compact Camping Electric Griddle for Camping
Presto 15" Electric Tilt'nFold Griddle

If the 19" model is still to big for you the 15" Electric Tilt'nFold Griddle might be perfect. Again this model has all the features of the larger one, but in a smaller package.
Compact Size

This model features a 13.75" x 13.39" cooking surface. When you fold the legs of this electric griddle it stores in a compact 15" x 14.18" x 1.87" space. That means you should have no problem storing this griddle in your RV.
Get the 15″ Tilt'nDrain
Stackable Measuring and Mixing Bowl Set
Again, when space is limited stacking and folding can really help you maximize the use of your cabinets. All the pieces in this set stack together and store in the large mixing bowl. That gives you 10 pieces in space of 1 and you don't have to spend time trying to figure out where you put that ½ cup measuring cup.
This 10pc bowl set includes
10.5" large mixing bowl
9" Colander
7.5" Sifter
6" mixing bowl with measurements and spout
¼, 1/3, ½ and 1 cup measure cups
½ and 1 tbsp measuring spoons
Get this set at Amazon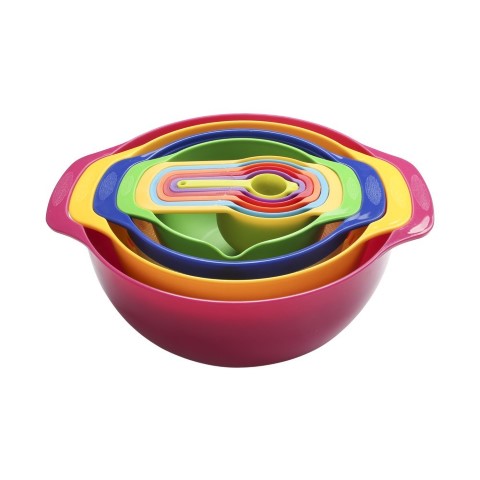 Pot, Pan and Dish Protectors
When your kitchen is on wheels one thing is sure. When you arrive at your destination things will have bounced and moved on the way. The last thing you want to find is broken dishes or scratches in your brand new non-stick cookware. A few sets of inexpensive protectors can give you piece of mind and save your investment.
Easy to Use

You just place the protectors in between your dishes when putting them away.
Easy to Clean

If the protectors ever get dirty they can be cleaned with warm soapy water and then lay them flat to dry.
Adjustable

If the protectors included in the set are too large you can trim them using scissors. Before throwing away the cut pieces thing about other uses for them. They could be used between cups, tools, in the bathroom, just about anywhere in your RV.
Pan Protector Set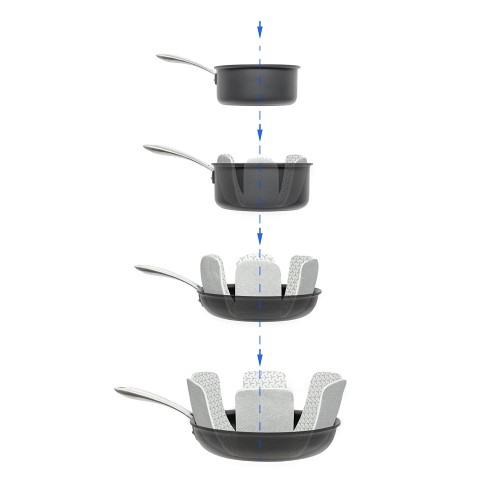 This set includes 3 protectors. Each one measures 16" across and are perfect for your pots, pans plates and bowls.
Get them on Amazon
Bakeware Protectors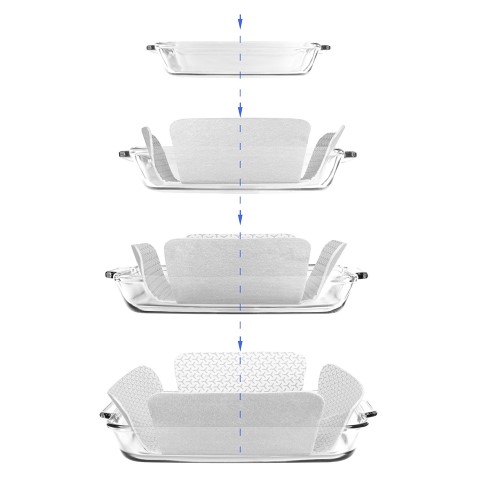 The bakeware protector set includes 3 protectors. 1 measures 19" x 15" and 2 of them measure 16" x 14". This set is great for protecting baking dishes.
Get them on Amazon