Mountain Pie Recipes
Cooking over a campfire is one of the best parts of camping. One of my favorite ways to cook over the campfire is with pie irons. I have tried to include some recipes you might not have seen before using more than the usual sliced bread. The mountain pie recipes are separated by breakfast recipes, Lunch/Dinner Recipes and Desserts, but feel free to make whatever you want whenever you want. You're camping so relax and enjoy.
Tips for Cooking with Pie Irons
Season New Pie Irons
This video shows how to season you new pie irons.
Prevent Sticking
Always have a layer of grease between the cast iron and your bread or dough. This can be done 2 ways for bread use a spreadable butter or margarine on the side of the bread that will be facing the iron. If you are cooking dough or some other food, then spray the inside of the irons with a non-stick cooking spray. Avoid olive oil because it has a low smoke point and can burn while you are cooking.
Rotate and Check Often
Check your food and rotate your pie irons often while cooking. Cooking time will vary depending on where your food is in the fire and how hot your coals are.
Be Safe
When making multiple pies don't set the iron on something flammable when preparing your next pie. I prefer using an aluminum camping table or the campfire grill grate.
When you are done cooking, scrape any burnt or stuck pieces of food out of the irons so they are ready for next time. Also, place them somewhere out of the way to cool so no one will accidently get burnt.
Mountain Pie Lunch and Dinner Recipes
Mountain Pie Dessert Recipes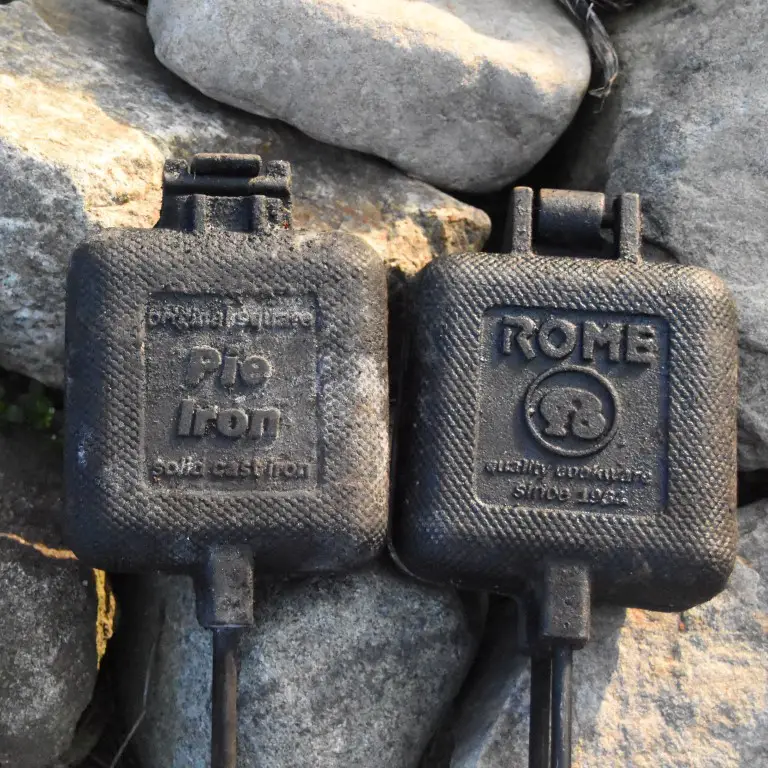 When making mountain pies, I prefer the Rome Square Cast Iron Pie Makers. Cast heats more evenly than the cheaper aluminum models and once seasoned they are relatively non-stick and easy to clean. To clean I usually just open them up and hold them over the coals to burn off any stuck food and then give them a quick cleaning with a wire grill brush.
Square or Round Pie Irons
I prefer the square pie irons over round because they have a slightly larger cooking area and when using bread you don't loose the corners. The double pie irons are also nice if you are cooking for several people at once.
Storing Your Pie Irons
Over the years I have tried may ways to store my pie irons without getting everything around them covered in grease and ashes. Wrapping in rags or paper towels works for a short time, plastic grocery and trash bags eventually tear and then you are left with a mess again.
Luckily Rome solved this problem with their canvas storage bag. I now store 2 pie irons and all my hotdog/marshmallow sticks in the Rome canvas bag. My bag is over 2 years old now and other than some stains it is just like new. The handles make it easy to carry and keeps the mess away from my other gear.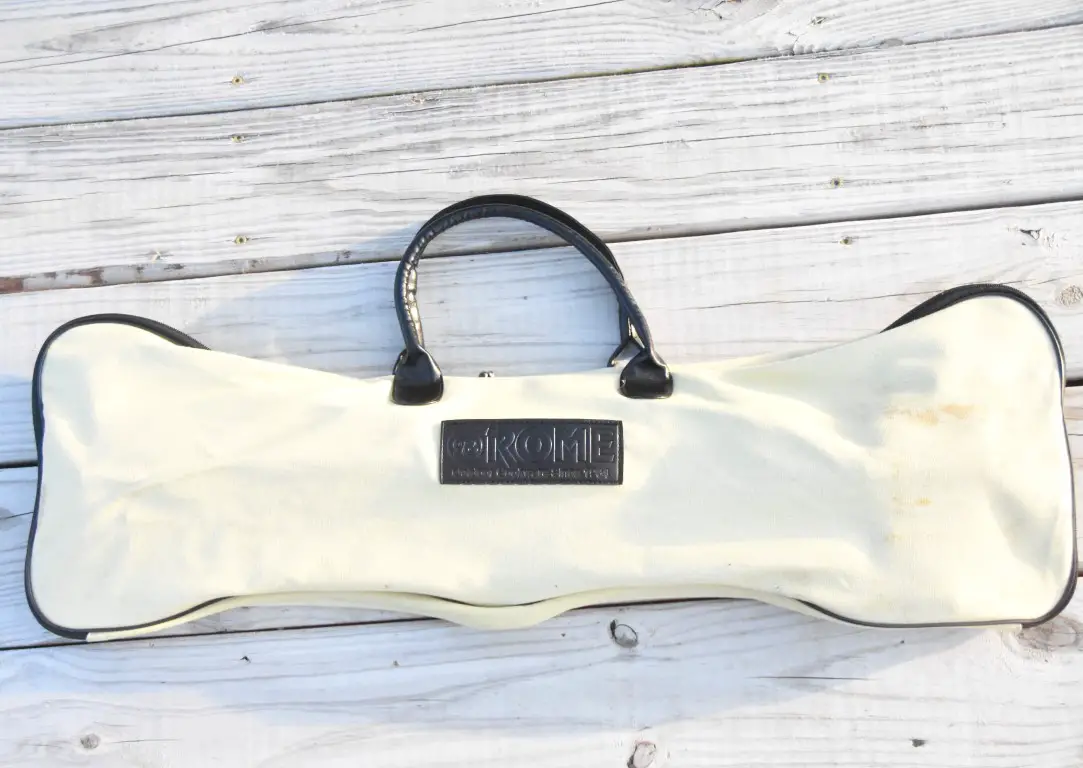 Now get out there and try some of these mountain pie recipes over your next camp fire.