Campground Rating 

Whispering Hills Jellystone Review (Big Prairie, Ohio)
Whispering Hills Jellystone campground  in big Prairie, Ohio is a great family friendly Resort. In fact I liked it so much I already booked another trip there for 4th of July next year. This Campground is located in the picturesque Rolling Hills of Central Ohio. In addition, as a member of the Jellystone family of resorts this Campground has plenty of activities for families and children of all ages. With campsites ranging from primitive tent sites to luxury cabins you're sure to find something that will fit your family's camping style.
We had been considering a trip to Whispering Hills for over a year, I'm glad we finally made the trip, but  I wish we had done it sooner. Our stay was the last weekend in September this also happen to be the weekend of their annual Apple Dumpling Festival!  Although the pool was already closed for the season there was plenty of activity and excitement.
My Stay at Whispering Hills
Arrival on Friday
The first thing I noticed when pulling in to the campground was that it had been decorated with pumpkins corn stalks and other fall decorations. A table was set up outside the main gate where the staff was there to greet you and check you in without ever leaving your vehicle. We were given a map, some information on the activities for the weekend, a pass for our truck and directions to the campsite.  Our site was in the premium full hookup section. These sites are pull through sites with cement pads, and water, electric and Sewer hookups. After setting up camp we took a walk around to check things out.  Our two children immediately ran off to the jump pillow while my wife and I checked out some signs posted around the main area of the campground listing the activities for the weekend.
We return to our site, made dinner and then decided to try out the corn maze.  We only had about 45 minutes of daylight left and luckily we were able to navigate the maze in about 30 minutes and get back to our site before dark. We spent the rest of the evening around the campfire.
Non-stop Fun on Saturday
We had planned for a relaxing weekend, but that isn't quite what happened.  Saturday turned into a day of non-stop activity.  There were so many things to see and do and we didn't want to miss any of it.  We began the morning with the French toast and bacon breakfast at the campground restaurant. After breakfast we took a walk around to the activity building to view the local crafters and Artisans who had setup for the Apple Dumpling Festival.  My daughter spent some time coloring a picture for the coloring contest.  Next, we made our way down to the front of the campground where a state-sanctioned pedal tractor pull was about to take place.  Both my children took part in the tractor pull and had a great time. All participants were given a ribbon for participation.  My son came in second place in his age group and earned a small trophy. The tractor pull was great fun for the kids and was free.
After the tractor pulls we walked back to our site just in time to see a load of people climbing onto a wagon pulled by two draft horses.  The kids wanted to jump on the jump pillows again so we decided to take a little break and then we would catch a ride on the wagon a little later.  While we were waiting we are able to enjoy music from a bluegrass band playing on the amphitheater stage.  The line for the wagon rides was getting longer so we decided to get in line before the wait was too long.  One of the operators of the wagon ride told us that they bring the horses out every year in the fall to the campground.  When the horses are not there, wagon rides are still provided just pulled with a tractor instead. After we got off the wagon ride we noticed the sign for lunch specials and decided to check that out.
We tried our second meal from the campground for lunch on Saturday.  Lunch options were pulled pork or a hot dog with baked beans coleslaw chips and a ticket for an apple dumpling with ice cream. We ate the lunch and we're so full that we decided to save The apple dumpling tickets for later in the evening.  After lunch we played a round of Mini-Golf. Then decided we would attempt the corn maze again.  This time to find all of the clues hidden within the maze.  With map and Pen in Hand we entered the Maze this time it took over an hour to find all the clues and make our way back out of the maze.
Although it was getting close to dinner time we decided to try the apple dumplings. We were told that they had hand made over 1,000 apple dumplings for that weekend!  They tasted amazing, they were served hot and topped with vanilla soft serve ice cream.  If you wanted, you could also purchase a half dozen that were refrigerated and freeze them for another time.  Finally, we were finally able to head back to the campsite and relax for a little bit until it was time to make dinner.
Ending the Weekend with a Bang!
After we had dinner and the excitement still wasn't over. As a grand finale for all the weekend's activities a fireworks display was put on by NEOPG (Northeast Ohio Pyrotechnics Group) .  This wasn't just any fireworks display this was probably the best fireworks display I've ever seen.  The fireworks show was actually a contest between two show designers from NEOPG.  They both put on a show and the winner was chosen by the crowd's applause.  I later found out that NEOPG does three firework shows throughout the year it Whispering Hills, The 4th of July, Labor Day and one show sometime in the fall where their show designers compete like the one I watched on Saturday.
It's not the same as being there, but you can check out the fireworks show here on Whispering Hills Facebook Page. 
Now that I told you about my weekend at Whispering Hills let's get down to the details about the campground itself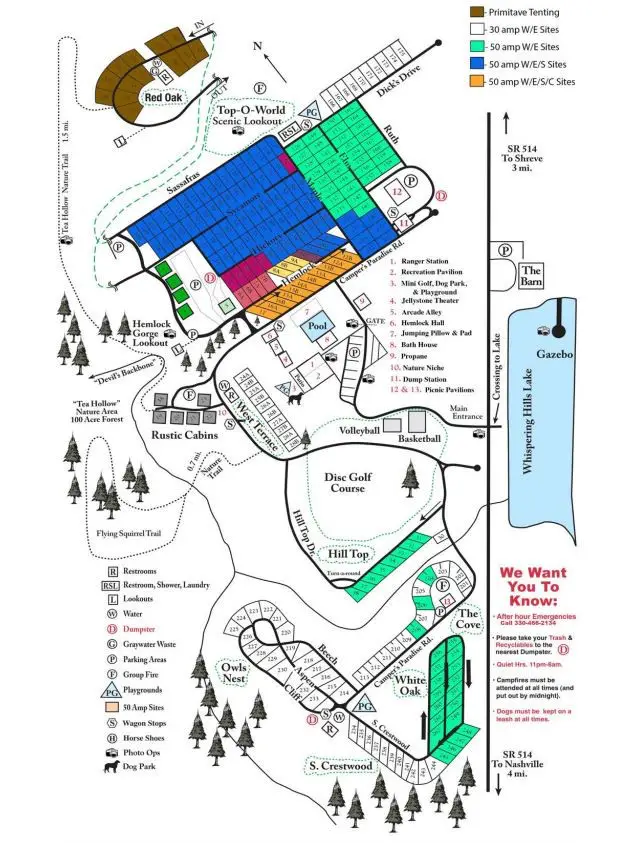 Campground layout
When you enter the campground a winding driveway takes you up a hill to the front gate.  Near the front gate is the camp store, restaurant, amphitheater, activity building, swimming pool, jump pillows and a jump pad.  All the main activities at the campground take place and this area. Just behind the main building is the free miniature golf course and then down the hill is a basketball court, playground and disc golf course. The campground has a large stocked fishing pond, but you do have to cross the road to get to it.
I would say the campsites are broken down into three sections.  The section of campsites closest to all the buildings are full hookup sites with a row of pull through sites directly across from the jump pillows and swimming pool.  If you have children that are old enough to play on their own, but you still want to be able to keep an eye on them, these sites are perfect.  Off to the right of this section of campsites is a section of Water and Electric only sites still near to all the activities.  The last section of campsites is further away and wraps down and around a ravine opening up into another section of campsites that are Water and Electric only.  These sites appeared to be a little larger, but are aren't as close to all the activities.  There is also another bathhouse and a playground in that area.
In addition to the RV sites there is a section of primitive tent sites near the back of the campground next to the cornfield where the corn maze is located.  Finally, there's a variety of cabins scattered around the campground.  The cabins range from small 1 bedroom models up to large 2 story cabins that are more of a house than a cabin.  The campground also has several hiking and walking trails around the property.
The campsites are about average size for an RV campground.  I wouldn't like a little more space between neighbors but it is not so close that you can't enjoy yourself around your campfire.
Things to do at Whispering Hills
There is no shortage of activities and Whispering Hills Campground. In the summertime the pool is open for swimming. They also have a large jump pillow and jump pad for children or adults who aren't afraid to act like a child sometimes. There are several playgrounds and a few ga-ga-ball courts.  There are also miniature golf and disc golf courses.  Finally, there are a few hiking trails and the fishing lake.
In addition, Whispering Hills has several themed weekends throughout the year with special activities and events.
Bathhouses
The bath houses at Whispering Hills are slightly above-average.  One thing I would definitely like to note, is that even on a weekend when the campground was filled to capacity the bathhouses were clean.  I would not hesitate to use the restrooms or the showers.  There are several bathhouses located around the campground so no matter where you stay there should be one nearby.
Other activities in the area
Whispering Hills is only a short drive from Sugarcreek Ohio. Sugar Creek is home to a wide variety of Amish stores and restaurants.
Whispering Hills is also close to Mohican State Park.  The Mohican area has many canoe liveries where you can go canoeing, kayaking or tubing.  You can also take advantage of some great hiking trails through the state park.
Summary
Overall, I think Whispering Hills is a great Campground to visit especially for families with children. If you are considering a trip to Whispering Hills be sure to check out their Facebook page  or website  for information about activities and themed weekends throughout the season.  If you are looking for a secluded campsite where you can relax in nature this probably isn't the place to go.  A trip to Whispering Hills Jellystone will give you the opportunity to relax, or be as active as you would like it's up to you.
If you have any questions or if you would like to share your experience at Whispering Hills please leave a comment below.  Also, if you enjoyed this review please share it with the buttons below.
Thanks, and enjoy your next Weekend RV Adventure!