Campground Rating

Lock 30 Woodlands Campground Review (Lisbon, Ohio)
Lock 30 Woodlands Resort is located in Lisbon, Ohio. The campground has a beautiful setting surrounded by Little Beaver Creek on 3 sides.  The campground sits high above the river and is laid out in a U-shape. All sites in the campground back up to the river or look down to a fishing lake with no other campsites in front of or behind you.  When you enter the campground you'll notice the abundance of trees.  The roads and campsites have all been cut out of a dense evergreen forest giving some privacy to all the sites. 
This campground has the potential to be an incredible resort, but unfortunately some updates and improvements need to be made to get it there.  Because of this I am rating Lock 30 slightly above average.  I may return to camp here again, but it isn't on the top of my list.
My Stay at Lock 30
Arrival on Friday
We arrived on Friday to spend Labor Day weekend at Lock 30.  We made the trip with my parents and my Aunt and Uncle so all together we had 3 campsites and 13 people.  A long winding driveway leads you past a cow pasture and crop field to the entrance to the campground.  There is a steep dip when turning off the main road.  I was concerned it might cause the rear bumper of by RV to drag on the ground, but luckily it did not.  The driveway is only wide enough for 1 RV in most places, this could make it interesting if someone is entering and leaving at the same time.
Checking in
When you arrive at the gate you stop and check in at the camp office.  This is also a small camp store with some food items, a few RV essentials in case something was forgotten or breaks and some other merchandise.  When checking in you have to give the names of everyone in your party.  If you have any guests that will be coming to visit you can check them in as well (day and overnight guests must pay a small entrance fee to the campground).  Then you will receive a car pass and gate key card. 
Getting Setup
If you have a longer RV some of the sites might be difficult to back into because of the trees.  This is one campground where it would be nice to have a backup camera on your RV.  Our group on this trip had 3 campsites all with RVs over 35 feet and we were able to get in without too much trouble.  I did speak to someone in a Class A motorhome who had to circle around and try backing in from the other direction before he was able to get in his site.  Some of the sites are very long, but be careful or your water, electric and sewer connections might not reach.  I had use my 15-foot sewer hose extension to reach the hookup from where I decided to park.
Settling In and Dinner from Mary's Pizza
After helping setup camp our children went to check out the playground.  For dinner Friday we order pizzas from Mary's Pizza.  Mary's is about a 15-minute drive away in downtown Lisbon.  The pizzas at Mary's are delicious.  They are the thickest heaviest pizzas I have ever had.  1 or 2 slices is about all you can eat.  After dinner we relaxed around the fire for a while.  I'm happy to say that the fire wood we purchased from the campground started easily and burned nicely.
Saturday
We started the day Saturday with another fire to cook breakfast on.  We made pie iron breakfast sandwiches, it was a bit of a challenge with 13 people.  The playground and basketball court provided entertainment for our children for a good part of the afternoon.  We also rode our bikes around the campground, played corn hole and bocce ball.
We took a tractor pulled hay ride around the campground later in the day and played a few games in the small arcade.  Saturday evening some heavy rain came through, so we spent the evening playing cards and watching a movie in our camper.
Sunday (swimming and a walk on the nature trail)
By Sunday morning the rain had cleared out.  Due to the dry summer we had the ground dried out quickly too.  The swimming pool had been closed Saturday, but was open on Sunday so the kids went for a swim while my wife and I relaxed by the pool and did some reading.
Sunday afternoon I was able to check out the nature trail that wraps around the fishing lake and follows the river around the campground.  The lower area near the pond reminds me a park with large grassy fields and a trail that winds in and out of the trees and follows the river.  The trail takes about 30 minutes to walk and was my favorite part of campground.  Even with the campground nearly full, once we were past the lake we didn't see anyone else for the rest of our hike.
Sunday the evening was spent around the campfire.  By this time, we had ordered a second load of wood to get us through the remainder of the weekend.
Monday (checking out)
Due to the warm weather we were told that we could checkout later if we wanted to stay and use the pool and enjoy the day.  Unfortunately, we had plans for the afternoon and had to get going in the morning.  When checking out be sure to return your gate key card to the office, otherwise you will be charged for it.
Overall, I enjoyed my stay at Lock 30.  Now let's get down to some details about the campground.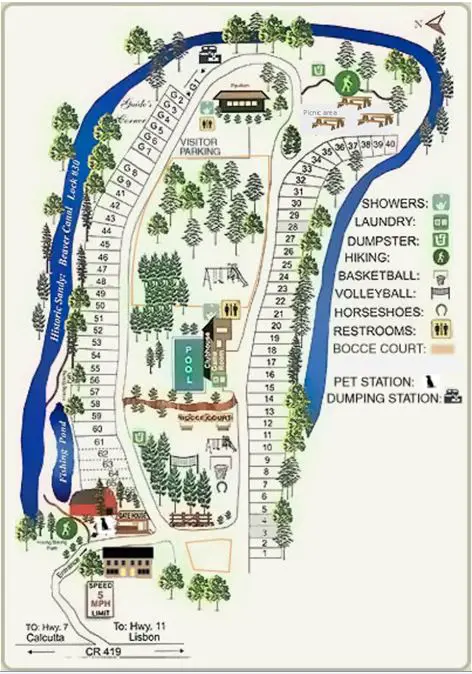 Campground Layout
The campground has one road that forms a loop, campsites are located on 3 sides of the loop.  When entering the campground the 2 sides of the loop back up to the river, while the side nearest the entrance looks down to the fishing lake.  There is a large pavilion at the far end of the campground that could be used for activities.
Campsites
All the campsites have full hookups and very long driveways, that can accommodate any length RV and tow vehicle.  Many of the sites on the side near the entrance have a moderate slope down towards the lake and river.  I would suggest requesting a site on the other side.  There are a few sites that have concrete pads, but most do not. 
If you don't own an RV you can still visit Lock 30 and stay in their 1 or 2-bedroom condo.  The condos are located near the entrance of the campground.
Fishing Lake and Nature trail
As I mentioned earlier there is a nature trail and fishing lake on one side of the campground.  These are accessed by a trail that starts next to the barn and camp store.  The 3.5 acre lake is stocked to make fishing a fun experience even for children.  In my opinion the trail and surrounding area is one of the nicest things about Lock 30.  If you stay at Lock 30 make sure to take some time to walk the trail along the river.
Things to Do at Lock 30
There is a variety of other things to do besides the trail, but this is also where the campground needs some improvement. There is a swimming pool, clubhouse, bocce ball court, basketball court, volley ball, playground and wagon rides. The clubhouse is next to the pool and has some arcade games, a pool table, a game table, restrooms and the laundry facilities.
All of these amenities look like there were "top notch" when installed, but now they could use some updating. For example, the pool area has a miss-match of different furniture with some faded or damaged. The pool itself is large, but showed signs of wear and needed some attention. There weren't any real deal breaker items, but if everything was in excellent condition this is a campground I would return to every year.
Bathhouses
The showers, bathrooms and laundry areas were all clean and well maintained.  The showers are attached to the pavilion which makes them a long walk if your site is on the opposite end of the campground.  With all sites have water and sewer most campers will probably not use the shower house.
Other activities in the area
Lock 30 is just down the road from Beaver Creek State park where you can find several hiking and bridle trails. The state park also has a pioneer village with a trading post, water powered grist mill, blacksmith, chapel, covered bridge, schoolhouse and restored canal era lock and cabin.  The village comes alive with volunteers reenacting the pioneer days on the first Saturday of the month from May through September from noon to 3pm.
Mountaineer Race Track and Casino is only about a 30 minute drive away in New Cumberland, West Virginia.
Lastly, if you don't feel like cooking be sure to checkout Mary's Pizza in downtown Lisbon.
Some other things you should know about Lock 30
To preserve and protect the trees at the campground no firewood is allowed to be brought in. A load of firewood can be purchased when making your reservation or at any time during your stay.  The wood is cut and split from trees on the property.  One load of firewood is enough to make 2 to 4 fires depending on how long you let them burn.
The reservation process is a little unusual. Reservations are made by completing a form on their website.  Then you will be contacted by the campground to confirm the reservation and make your deposit.  Deposits can be made over the phone with a credit card or by mailing a check.  You cannot make a reservation directly over the phone and they will not guarantee a specific site.
All camping rates are based on 2 people, if you have children you have to pay an additional charge per person, per night based on their age. This also applies to adult guests staying with you.
Any visitors must pay a charge to enter the campground.
If you stay more than 4 nights you will pay metered electric.
The campground has a long rules list and many signs around the property that threaten loss of camping privileges if you violate them.  I believe they were made with good intentions to create a nice camping experience for all campers, but the way they are worded can be off putting.
Summary
I enjoyed my stay at Lock 30 and think it is a great campground to checkout.  It isn't quite a polished as some other campgrounds I have been to, but they have made a great effort to provide everything you need to have a wonderful experience.  For more information about lock 30 you can check out their website here.
If you have stayed at Lock 30 please leave a comment below with your thoughts.  Also, if you have any questions please ask and I will answer them.
Thanks for reading and enjoy your next Weekend RV Adventure.
Jason