Best Tire Pressure Monitoring System for RV
Have you ever arrived at your home or camp site and thought "that tire looks a little low"?  Well… by the time a tire "looks" low it is probably well below the recommended pressure.
I recently had that exact experience and by the end of my 3 day camping trip my tire was completely flat.  Imagine what could have happened if my trip to the campground was longer.  That tire could have been ripped off the rim and caused damage to my 5th wheel as well as other cars.
This wasn't my first encounter with tire problems.  With a previous camper I had a blow-out while traveling down the interstate.  I didn't even know until a passing car beeped their horn and pointed back at my camper.  By the time I pulled over my tire had been ripped to pieces and damaged the fenders of my RV.
With these experiences behind me I have decided that the value of a good Tire Pressure Monitoring System (TPMS) far outweighs the cost.  With a TPMS installed on my RV I should be able to pull over at the first sign of trouble, hopefully before any damage is done.
In addition to knowing when a tire goes flat here are few other reasons to monitor the pressure and temperature of your tires.
According to the NHTSA 50% of all RV tires are underinflated
Properly inflated tires improve handling and braking
According to the Department of Energy a 9 PSI drop in pressure can increase fuel consumption by 4% and shorten tire life by 40%
A tire over inflated by 20% can shorten tire life by 10%
For more information on RV and tire safety checkout RVsafety.com.
If you want to get right to the point my pick for the best RV TPMS is the TireMinder A1A.  This model checks all the boxes when it comes to features.  It's also backed by a reputable company and a 1 year warranty.  If you want to learn more about why this is my top pick then please read on, or you can click here to get right to Amazon.
Best Tire Pressure Monitoring System for RV Comparison Table
All links are for 6 sensor systems. See the full reviews below for details on the type and number of sensors available for each system.
Model
TireMinder A1A
(Top Pick)
Tire-SafeGuard
(Budget Pick)
TireTraker TT-500
(Runner Up)
EEZTire TPMS6
Bellacorp System
Link
check pricing and availability
check pricing and availability
check pricing and availability
check pricing and availability
check pricing and availability
Monitor Values
Pressure, Temperature
Pressure, Temperature
Pressure, Temperature
Pressure, Temperature
Pressure, Temperature
Pressure Range
0 - 232 PSI
0 - 199 PSI
0 - 232 PSI
0 - 210 PSI
15 - 175 PSI
Sensor Type
Cap
Flow Thru (cap avaliable)
Cap
Cap
Cap
Number Sensors Included
6
6
6
6
6
Number Sensors Max
22
20
22
22
22
Replaceable Battery
Yes
Yes
Yes
Yes
Yes
Range
100 ft
100 ft
See Notes
See Notes
100 ft
Alarm
Pressure (low - high), Temperature (high)
Pressure (low - high), Temperature (high), Slow Leak
8 temperature and pressure alarm modes
Pressure (low - high), Temperature (high)
Pressure (low - high), Temperature (high)
Monitor Mount
Suction Cup
Double Sided Tape
Suction Cup or bolt on
Suction Cup
Notes
Includes range booster, Battery Exchange Program
Flow-Thru sensors require metal valve stems, for rubber valve stems use cap sensor version
Signal booster reccomended for RVs longer than 36'
Per axle alarm settings, Signal booster reccomended for rigs over 53 ft
Separate Alarm Points for first 3 axles
Tire Pressure Monitor System Features
What does a tire pressure monitoring system monitor?
The obvious answer is tire pressure, but all the systems reviewed here also monitor tire temperature.
Why monitor temperature? When a tire approaches failure it will typically increase in temperature. By monitoring and alerting you when the temperature increases you will have time to reduce speed and find a safe place to stop and inspect the tire before a catastrophic failure. Monitoring temperature can also alert you to other problems such as brake or wheel bearing failures that are causing additional heat.
What tire pressure sensor range do I need?
There are variety of TPMS systems available designed for cars, trucks RVs and semi-trailers. When selecting a system for your RV keep in mind that many RVs are equipped with tires that require higher pressures than passenger cars. An RV system should at a minimum be able to monitor pressures up to 100 psi. The lowest pressure system reviewed here is capable of measuring pressures up to 175 psi, this should work for any RV application.
What tire sensor types are there?
When it comes to sensors there are several types of TPMS sensors. Some sensors are installed on the valve stem (the part you use to fill your tire), while others are installed inside the rim. Each sensor type has its own advantages and disadvantages. External sensors can be installed quickly and easily, but they can also be damaged or stolen. Internal sensors are better protected, but must be installed before the tire is mounted and balanced on the rim.
External TMPS Sensor Types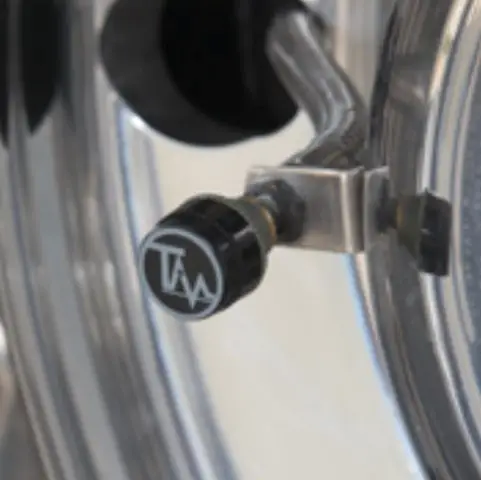 Cap Style – Cap style TPMS sensors screw on to the valve stem replacing the cap. These are the most commonly used sensors in aftermarket and RV monitoring systems. This is the smallest external sensor and is the only type of external sensor recommended for use with rubber valve stems. When adding or relieving pressure from the you must remove the sensor.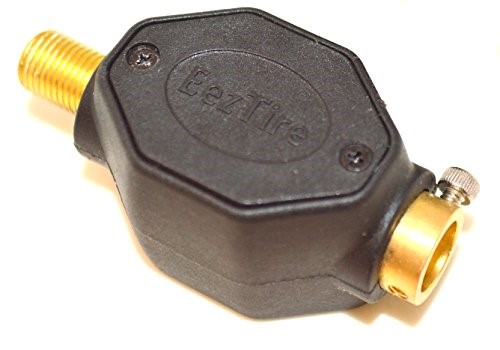 Flow-Thru – This style of sensor also screws on the valve stem replacing the cap. This larger sensor also includes a connector on the top that you can use to make pressure adjustments. Because flow-thru sensors are larger and heavier they should only be used on wheel with metal valve stems.
Internal TMPS Sensor Types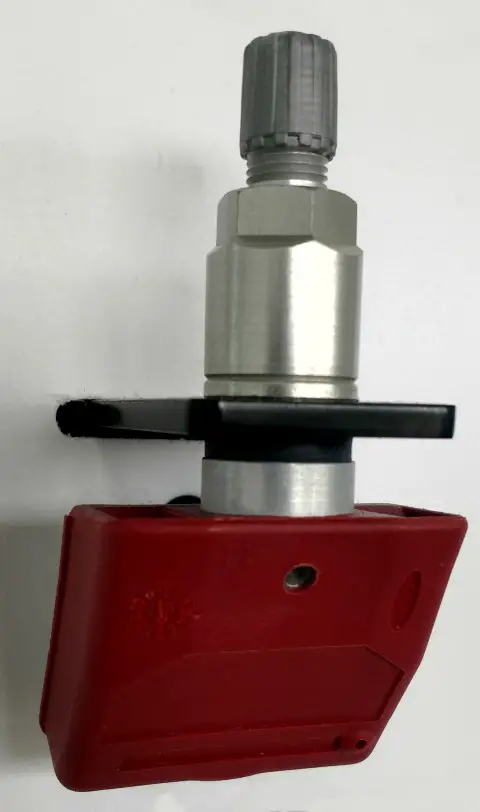 Internal Valve Stem – This type of sensor is installed from the factory in most new cars and trucks. This type of sensor has the valve stem attached directly to the sensor and is installed inside the rim.
Internal Bandclip – This style sensor is commonly used by ford. Like the internal valve stem style, it is installed inside the rim.  Instead of being held in place by the valve stem this sensor is installed opposite the valve stem and is attached to the rim by a bandclip.
How many TPMS sensors do I need?
The number of sensors you need depends on your RV and tow vehicle combination.
For motorhomes, get 6 sensors for the RV (2 front, 4 rear). If you tow a car you should get 10 sensors. That way you can monitor all the tires on the towed vehicle from the driver's seat.
For most travel trailers and 5th wheels you need 4 sensors for the trailer tires. Some larger toy haulers may need 6 sensors or small trailers only 2. If you tow vehicle does not have TPMS already get enough to monitor those tires as well.
Are all tire sensor batteries replaceable?
Some lower cost sensors are sealed meaning the sensor batteries cannot be replaced. This means when the batteries go dead you must replace the entire sensor. All the tire pressure monitoring systems reviewed here come with sensors that have replaceable batteries. This means that in a couple of years you just have to open the battery compartment replace the batteries and you are good to go, no reprograming new sensors.
What is a range extender and do I need one for my TMPS?
A range extender will pick-up the signal of the tire sensors, and relay that signal to the monitor.  This allows you to have a greater distance between the monitor and the sensors.  Usually the range extender will be mounted near the rear of you tow vehicle.  It is difficult to determine if you need a range extender.  If you have a very short RV (25' or less) you probably don't.  If you have a very large Class A motorhome of triple axle toy hauler fifth wheel then order one. The only way to know for sure if you need an extender is to try it.  There are several factors that can change the range of a TPMS system.
Some of those factors that affect the range of a TPMS:
The length of your RV
The location of other electronics
The number of slides on your RV
The materials it is constructed from
If you want to be safe order the optional range extender for your system.  One advantage of the TireMinder system is that it includes a range extender.
What conditions set-off an alarm in a tire pressure monitoring system
I am sure you guessed a low tire pressure will set off an alarm, but there are many other alarm conditions that will help keep you save on the road.
Below is a list of some of the events that can trigger an alarm in a TPMS:
Low pressure limit
High pressure limit
High temperature limit
Slow leak
Fast leak
Catastrophic failure
Systems that include fast and slow leak alarms are especially useful.  These alarms allow you to recognize a leak and get off the road before the tire drops below a safe pressure.
What type of display does the TMPS have?
Unlike the sensors the monitors for the various systems vary in their shape, size and how the information is displayed. Some systems like the TireMinder have a monitor that sits in a portrait orientation and remind you of an iPhone. Others use a horizontal layout similar to a stand alone GPS.
Which Tire Pressure Monitoring System is right for me?
TPMS System Reviews
Here is a breakdown of 5 of the top RV tire pressure monitoring systems.  The reviews are setup in the following format.
Introduction and Key Features
Basic Setup Process
How the system works when traveling
Alarm modes
Likes and Dislikes for each system
TireMinder A1A (TOP PICK)
The TireMinder A1A has been Voted the #1 TPMS system for 3 years in a row by Motor Home & Trailer Life Magazines.
Key Features
Large display
Included range extender
Front and rear disconnect mode
Extra O-rings and batteries
Free Battery Exchange program
System Overview
This system monitors pressure from 0 to 232 PSI and temperature on up to 22 tires. The system monitor measures 4.25" x 2.5" x 0.6" and features a rechargeable battery and an adjustable mounting bracket with suction cup for attaching to you dash or windshield. The system also includes a hardwired signal booster, car charger, 2 sets of batteries for the sensors and a carry bag.
4 and 6 sensor systems are available. All TireMinder sensors are cap style. The TireMinder sensors use a lock nut as an anti-theft device. The lock nut is screwed onto the valve stem first. Then once the sensor it installed the nut is tightened to the sensor using a special wrench included in the kit. Two versions of the sensor are available brass and aluminum. The brass sensors are included in the basic kit and are suitable for most applications. The aluminum sensor is required if you are connecting to an aluminum valve stem with an internal sensor. Such as a tow vehicle behind a motorhome.
If you would like a flow through design TireMinder does offer an optional "T" adapter. The adapters come 2 per pack and can only be used with metal valve stems. At a length of 1.33" they may stick out past the tire.
System Setup
To setup the A1A monitor you enter learn mode. Then select the tire to be added. Finally attach the sensor to your tire, once the sensor is recognized move on to the next tire.
After all sensors are added you can set your baseline pressure. The TireMinder system keeps the process simple by entering only the desired tire pressure, this is the factory recommended pressure found on the vehicle placard, the high and low limits are calculated. The system allows individual values to be set for all 22 tires.
Units of measure, the systems defaults are PSI and degrees F. If you prefer a different unit the system can also be set to kPa or Bar for pressure and degrees C for temperature.
According to the manual the signal booster is not an option and should always be used. The signal booster only requires a 2 wire connection to 12v DC power and ground and should be located about ½ way between the monitor and last sensor. The antenna on the monitor panel should also be extended at all times. It is estimated that with no booster and the antenna down you have a 50% chance of signal loss, but with both in use you only have a 2% chance of signal loss.
In Use
When traveling the system will be in monitor mode. In this mode only the tires that were setup are displayed. The monitor can be monitor can easily be mounted to the windshield using the suction cup mount. Another option is to mount the monitor directly to the dash using a Velcro strip, this can be useful for class A motorhomes where the dash is far from the windshield. A fully charged monitor battery should last for most short trips, but if you will be driving all day then you will need to use the included charging cable.
When in use the system monitors each sensor about every 6 seconds. If there is no major change the display is updated every 4 minutes. To view pressure and temperature simply press the arrow buttons to scroll between tires.
If you sometimes disconnect a trailer or towed vehicle the tire minder has a disconnect mode. Once disconnected only the primary vehicle sensors will be monitored.
What happens if there is a problem?
If the system detects a problem it will display within 6 seconds. When an alert is triggered the system will beep, highlight the affected tire and display an icon representing the problem. Some of the icons are very similar so it may require you to reference the manual to determine exactly what is happening. This is the biggest drawback of the A1A. For example, the icon for rapid air loss and semi rapid air loss look almost the same.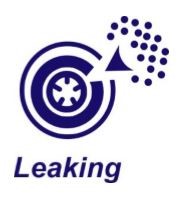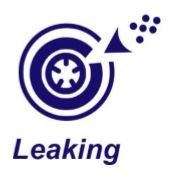 TireMinder A1A alarm conditions:
Rapid Air Loss – Tire loses 3 psi or more in less than 2 minutes.
Semi-Rapid Air Loss – Tire loses 6 or more psi in 2 to 10 minutes.
Normal Pressure Loss – Tire drops 15% below baseline pressure.
High Temperature Warning 1 – Internal tire temperature exceeds 167°
High Temperature Warning 2 – Internal tire temperature exceeds 185°
High Pressure Alert – Tire pressure rises 20% above baseline pressure.
Things to Like:
Large and bright display
Battery replacement program
Included range booster
Great customer service
Things not to Like:
Alarms use icons instead of plain text to indicate problems
Monitor does not display temperature and pressure at same time
High Price
Tire-SafeGuard RV TPMS (BUDGET PICK)
The Tire-SafeGuard system monitors up to 20 tires and is available with cap or flow-through style sensors.
Key Features
Flow-through sensors available
High and low limits per axle
Long range without booster
Trailer disconnect mode
System Overview
This system can monitor up to 20 tires for temperature and pressure from 0 – 199 PSI. The system monitor is easy to read and features a bright blue/green backlight. Also, included in the kit is the monitor antenna, tire sensors, charging cable and mount and an allen wrench.
The setup process has been simplified for this system. First, all the sensors are labeled and come from the factory linked to the monitor. Secondly, the pressure alarms are set without typing or selecting any values. For more information see the setup section below.
Tire-SafeGuard is available in several different configurations. You can choose 6, 8, 10 or 12 sensors in the kit. You also have the option of choosing flow-through sensors that allow you to fill add or remove air with the sensor in place. Or cap style sensors that must be removed to make air adjustments. If you have rubber valve stems on your tires you should only use the cap style sensors. Both sensor types have a small set screw that is tightened using the included allan wrench. The set screw prevents the sensor from loosening up and deters theft. Both sensors also feature replaceable batteries.
If you would like internal sensors they also offer internal sensors. They are not offered in a kit and you must have them installed by a tire dealer.
No signal booster required?
One item Tire-SafeGuard prides itself on is the range of the system. They do not include a signal booster. User reviews have confirmed that this system has an excellent range without signal loss for most applications. If you do run into a problem with signal loss they do have a booster available that can be hard wired into any 12V source on your RV or tow Vehicle.
System Setup
To setup the Tire-SafeGuard monitor you just need to install the pre-labeled sensors in the order shown in the manual. The sensors are already setup from the factory and ready to go. If you need to change the configuration you can follow the sensor programming instructions in the manual or contact tech support to walk you through the process.
Setting the pressure alarm points on this system is different than most. Before beginning the process you must have all tires at the proper pressure. Next enter the "Set Alarm" Mode and press the CTRL button. At this point the system will scan each tire and automatically set the alarm points. The alarm points are set per axle. The average pressure of all tires on and axle is used and then the high pressure alarm is set to 30% above that value. The low pressure alarm is set to 12% below the average. If you would like to manually adjust the warning thresholds for each axle this can be done.
The system can be configured to display pressure in PSI or Bar. Temperature can be displayed in degrees F or C.
In Use
When in normal use the system will scroll through each tire displaying temperature and pressure in real time.
The monitor operates on battery powered or can be plugged in with the included power cable. The system includes a mounting bracket for the monitor. The bracket is attached to your vehicle using a 3M adhesive on the base.
If you do not want to permanently attach the bracket you will have to come up with an alternative. Some owners have used adhesive Velcro strips under the base.
If you have a trailer or tow vehicle the monitor can change between "Tractor", "Trailer" or both. This option will prevent you from having "no sensor signal" errors when your trailer is disconnected.
When an alarm condition occurs, the system will display an icon representing the condition, highlight the tire. For severe warnings, the system will also beep to notify you. Like the TireMinder system you may have to refer to the manual to determine what an icon means.
Tire-SafeGuard alarm conditions:
Low Pressure or Blowout – Tire pressure is 12% below normal (can be adjusted)
Slow Air Leak – Tire loss of 3 PSI or more within 2 to 10 minutes
High Tire Pressure – Tire pressure 25% above normal (can be adjusted)
High Temperature – Tire temperature above 176°F (can be adjusted)
Low Battery – Sensor battery is low
No Sensor Signal – Monitor is not receiving a signal from sensor
Things to Like:
Large bright display
Simplified setup
Long range without booster
Things not to Like:
Alarms indicated using icons only no text
Only mounting option uses permanent 3M tape
TireTraker TT-500 (Runner Up)
The TireTraker TT-500 monitors up to 22 tires for pressure from 0 to 232 PSI and temperature from 14 to 185 degrees F.
Key Features
More alert conditions than any other system
20-30 day monitor battery life
Trailer disconnect mode
7 day per week customer service
Lifetime Warranty
System Overview
The TT-500 features a portrait layout on its monitor with a large easy to read display. The monitor come with a suction cup mounting bracket for easy installation. Also included is a power adapter and cable. The power cable can be used to charge the monitor's internal battery and then the system will operate for 20 – 30 days before needing a recharge.
The TireTraker system is available in kits ranging from 4 to 22 sensors. Only cap style sensors are available with this system and all sensors have replaceable batteries. The system includes a locking ring with each sensor. The locking ring is placed over the valve stem before the sensor is installed, then once the sensor is attached you slide the ring against the sensor engaging a locking tab. Finally, the lock is secured using 3 set screws. The hex key required for the set screws is included in the kit.
System Setup
The setup process is typical of many other systems. First the monitor must be placed in programming mode and then each sensor is added by selecting the tire on the monitor and then screwing the sensor on to the valve stem. TireTraker recommends carrying the monitor from tire to tire during this process.
After all sensors are you must program the baseline tire pressures. The baseline pressure should be your tires recommended cold tire pressure. A baseline value is set for each tire meaning you could if needed have 22 individual baseline values.
The last step in the setup process is selecting you units. There is no shortage of options here. Pressure can be set between PSI, bar, Kpa and Kgf/cm3. Temperature options are degrees F or C.
Do I need a signal booster?
TireTraker suggests using a signal booster if any of the following conditions exist.
Motorhomes, 5th Wheels or Trailers over 35′
Motorhomes with front or rear Diesel engines
Trailers or 5th Wheels Pulled by Diesel Trucks (especially trucks with dual wheels)
Slide-outs (the more slides, the more walls in while moving, causing more interference)
Manufacturers – Newmar, Monaco, Foretravel, Bluebird, Prevost, Marathon, Featherlite
Aluminum Skin RV's – Bus Conversions, LazyDaze MH's, Airstream Trailers, Safari Trek MH's
Aftermarket GPS or Wireless Thermometers placed near TireTraker™ Monitors
The signal booster is an optional accessory. If need you should install the booster as far back and as high as possible for motorhomes. For 5th wheels and travel trailers it should located close to the front and as high as possible.
In Use
When in use the TT-500 will display a single tire temperature or pressure. To see more information you have 2 options.
Option 1 – Press the arrow buttons, this will allow you to scroll through pressure and temperature for each tire.
Option 2 – Auto-Scroll, pressing and releasing the center button will initiate the auto-scroll. When activated the monitor will display each tire pressure and temperature.  After the the last tire is displayed the monitor will stop scrolling.  If you would like to stop the scrolling process you can press any button.
When trailer tires are setup in the monitor you have the option of monitoring the tow vehicle, trailer or all tires.
If the monitor is turned off or enters sleep mode (no motion has been detected for 15 minutes) it can take up to 20 minutes to update all the tires connected to the system. If you would like to know the status sooner or if you aren't sure that the system is displaying the current conditions the TireTracker TPMS has an Auto-Update mode. When activated all current pressures reset to 0 psi and all temperatures will reset to 32 degrees F. Within 15 minutes all tires should update.
During normal operation, the system will update pressure and temperature readings every 4 minutes. Even though updates are 4 minutes apart the system checks the readings every 5 seconds. If an alarm condition is detected it will be displayed by the monitor within 6 seconds.
This system features more alarm conditions than any other. This means you have more feedback when something begins to go wrong. Alarms are displayed using a combination of icons and text. So, while you may have some trouble remembering the difference between icons for "Rapid Air Pressure Loss" and "Quick Air Pressure Loss" you will know that the alarm is for low pressure and the tire is leaking. All alarm conditions are indicated by a series of beeps and a flashing red LED.
TireTracker TT-500 alarm conditions:
Rapid Air Pressure Loss – Pressure drop of 3+ PSI in less than 2 minutes
Quick Air Pressure Loss – Pressure drop of 6+ PSI in 2-10 minutes
High Internal Temperature Stage 1 – Internal temperature reaches 167⁰ F
High Internal Temperature Stage 2 – Internal temperature reaches 185⁰ F
High Air Pressure – Pressure increase of 25% over baseline
Slow Air Pressure Loss Stage 1 – Pressure decrease of 15% under baseline
Slow Air Pressure Loss Stage 2 – Pressure decrease of 25% under baseline
Slow Air Pressure Loss Stage 3 – Pressure decrease of 50% under baseline
Things to Like:
Icon / Plain text alarm messages
20+ day monitor battery life
Many alarm conditions
Lifetime Warranty
Things not to Like:
Alarms are calculated from baseline and not customizable
Shorter range without booster
EezTIRE TPMS
The EezTIRE TMPS by EeZRV Products monitors temperature and pressure from 0 to 188 PSI on up to 22 tires.
Key Features
Large Display
60-hour monitor battery life
Plain text alarm notifications
Multiple trailer capability
System Overview
The EezTIRE system can monitor up to 22 tires. The system is available in 4, 6, 8, 10 and 12 sensor kits. Sensors are available in cap and flow through styles. Cap style sensors feature an anti-theft housing. To install or remove the sensors you have to use the special tool included in the kit. If you aren't worried about someone stealing the sensors the anti-theft housing can be removed. Once remove the sensors can be installed just like a valve cap. The flow through sensors feature a set screw that secures the sensor and deters theft. Both sensor styles feature user replaceable batteries.
The kit also includes several mounting options; a suction cup mount, a bolt in mount and a mounting bar. The mounting bar is essentially a kick-stand that allows the monitor to be set on any flat surface.
Also included in the kit are 2 power cords, a cigarette lighter cord and a cord with bare ends that can be hard wired in.
Lastly the kit includes a set of sensor labels to identify each sensor and a set of spare seals for the tire sensors.
An optional signal booster is available. If the distance between the monitor and the furthest sensor is greater than 53 feet is recommended that you use the booster.
A unique feature of this system is the ability to set it up to monitor multiple trailers. To configure the system for multiple trailers you must install a booster on each trailer. Then you can link to the booster when connecting to that trailer enabling the sensors.
System Setup
To setup this system you must set our pressure limits and then link each sensor to the monitor. This is done by placing the monitor in programming mode. The first options are to set the units. Pressure options are PSI and BAR, temperature options are degrees F or C. Once the units are set you can set the high, and low pressure limits. The manual recommends setting the high limit to 20% above the tire baseline pressure and the low limit to 15% below the baseline pressure. The limits are setup on a per axle basis for the tow vehicle / motorhome. You have a front axle and 2 dually axles on the main vehicle. The towed vehicle or trailer has 1 setting for all tires. The last setting is the high temperature limit which applies to all sensors.
After the limits are set the sensors can be linked to the monitor. There are 3 methods to accomplish this. You can use any combination of the methods.
Method 1: This method is typical of most TPMSs and requires you to apply pressure to the sensor to link it to the monitor.
Method 2: This method does not require air to be applied to the sensors and can be done inside at a table or workbench.
Method 3: This method allows you to link sensors that have already been installed without removing the sensors.
In Use
When in use the monitor features a scrolling display. The display will show the current temperature and pressure for the highlighted tire. After about 6 second it will rotate to the next tire. If you would like to manually scroll through the tire this can be done with the + and – buttons. The monitor feature an automatic backlight the turn on based on light and motion sensors. The backlight can also be manually turned on or off.
You can disconnect from a trailer or towed vehicle using the link button on the monitor.
One Item I consider a major advantage of this system is the way alarms are displayed. While most systems use icons to represent different alarm conditions this system uses a red light and text that clearly states the condition. For example during a high pressure alert the system says "HIGH PRESSURE". In addition to the text and flashing red light the affected tire will flash on the display and show the current pressure and temperature.
EezTIRE TPMS alarm conditions:
High Pressure – Tire pressure above high pressure limit
Low Pressure – Tire pressure below low pressure limit
High Temperature – Tire above high temperature limit
Fast Leakage – Rapid loss of tire pressure, loss of 7.25 psi per minute or more
Sensor Low Battery – Low battery in tire sensor
Things to Like:
Plain text alarm messages
Multiple trailer option
Cap and flow through sensor options
60-hour monitor battery life
Good customer service
Things not to Like:
Only 1 set of limits for all trailer tires
Range may be less than stated 53' some users experienced signal loss around 30 feet
Bellacorp TPMS
The Bellacorp system is very similar in style to the EezTIRE system. This system can monitor up to 22 tires for temperature and pressure up to 175 PSI.
Key Features
Trailer Disconnect
Plain text alarms
System Overview
The bellacorp TMPS uses a cap style sensor with a set screw type anti-theft lock. The system is available in kits with 4, 6, 8, 10 or 12 sensors. Additional sensors can be purchased in sets of 2. The sensors use a replaceable battery that can be accessed by removing the sensor cap. The system also features a trailer disconnect function.
The Bellacorp system is only available through Amazon and appears to be a private labeled version of the EezTire. The advantage of this lean company is a lower price, but customer service may not be up to the level of the other systems.
I have not tested this system, nor was I able to find much documentation online. Please check out the amazon reviews for more information on this system.
Wrap-Up
Don't let an unexpected problem with a tire ruin your next camping trip. Getting a tire pressure monitoring system for your RV is an easy way to reduce stress while towing. The cost and time of repairing damage from a blowout is far greater than the cost of these monitoring systems.
If you are still undecided on which system to get, I recommend going with the TireMinder system. Not only is it backed by a company that has been around, but it also includes the signal booster and has lifetime battery replacement.
If you enjoyed this review or found it helpful, please share and leave a comment below.