Best RV Spice Racks
When it comes to RVs optimizing storage is always a priority. This is especially true in the kitchen. You use spices all the time when cooking.  Sometimes in the kitchen and other times outside at the grill or campfire. These RV spice racks will help keep your spices neat and accessible. Many of these spice racks work great for storing K-Cups or for use in your RV bathroom cabinet.
Be sure to check out my bonus BBQ rub recipe at the end.
This rub is perfect for my make-ahead pulled pork recipe.
Cabinet Door Spice Jar Clip Strips
The first option is to use jar clip strips that attach to your cabinet doors. This set come with 3 strips that each hold 4 spice jar. The strips use an adhesive back so they are easy to attach or remove. Be careful of heavy glass jars, they may slide out of these clips.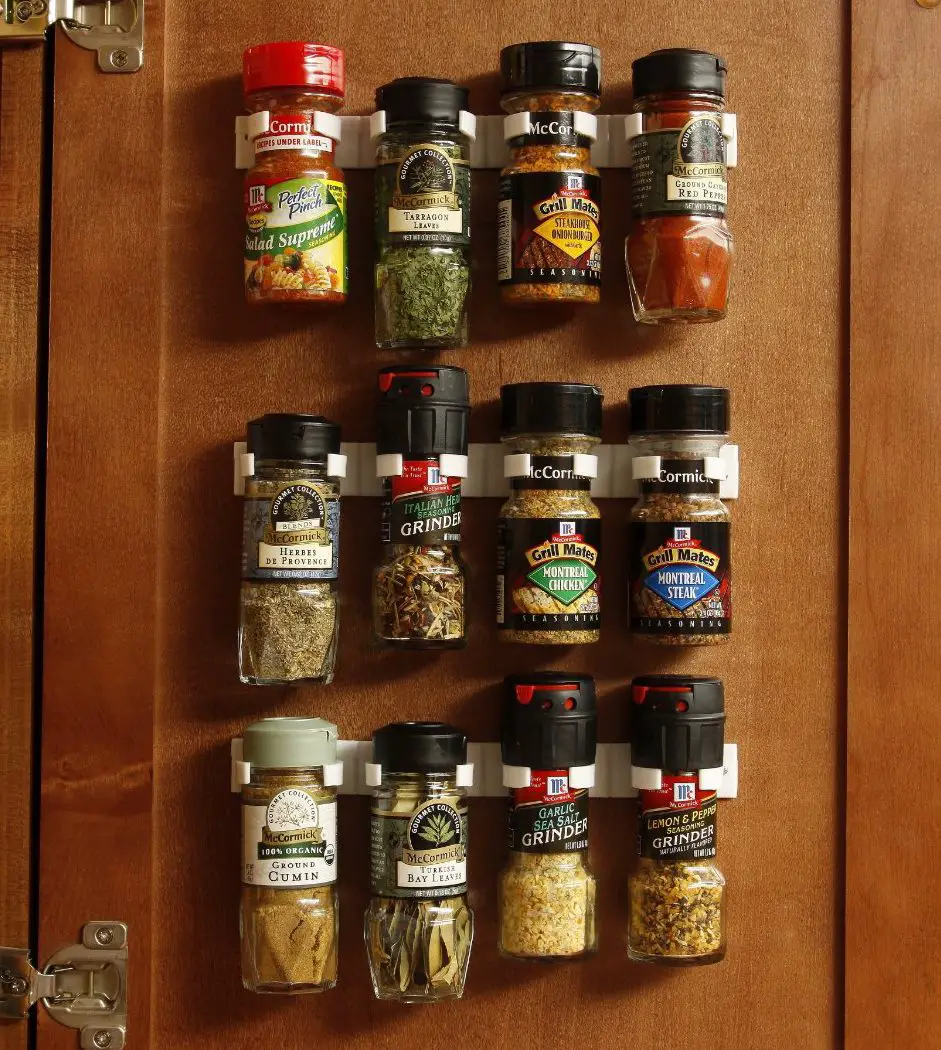 Attach to inside of cabinet doors, on wall, range hood or anywhere else
Strips can be cut shorter if needed
The clips adjust to hold a variety of size jars
Get It Here
3-Tier Wall Mount Spice Rack
This option is a simple 3 tier wall mount spice rack. This rack mounts with included screws to your cabinet or wall. The screws provide a very secure connection to the wall. The rack keeps your spices in place so there won't be any surprises when you arrive at the campground. Be careful because if mounted to the inside of a cabinet door it may prevent the door from closing.
Single Tier Wall Mount Spice Rack
Like the previous option this wall mount spice rack is securely attached with screws. The 2 included racks provide more mounting options because of their smaller size. You could mount them in different cabinets or on the wall above you range. These racks would also work great in the bathroom to securely store those small bottles and jars.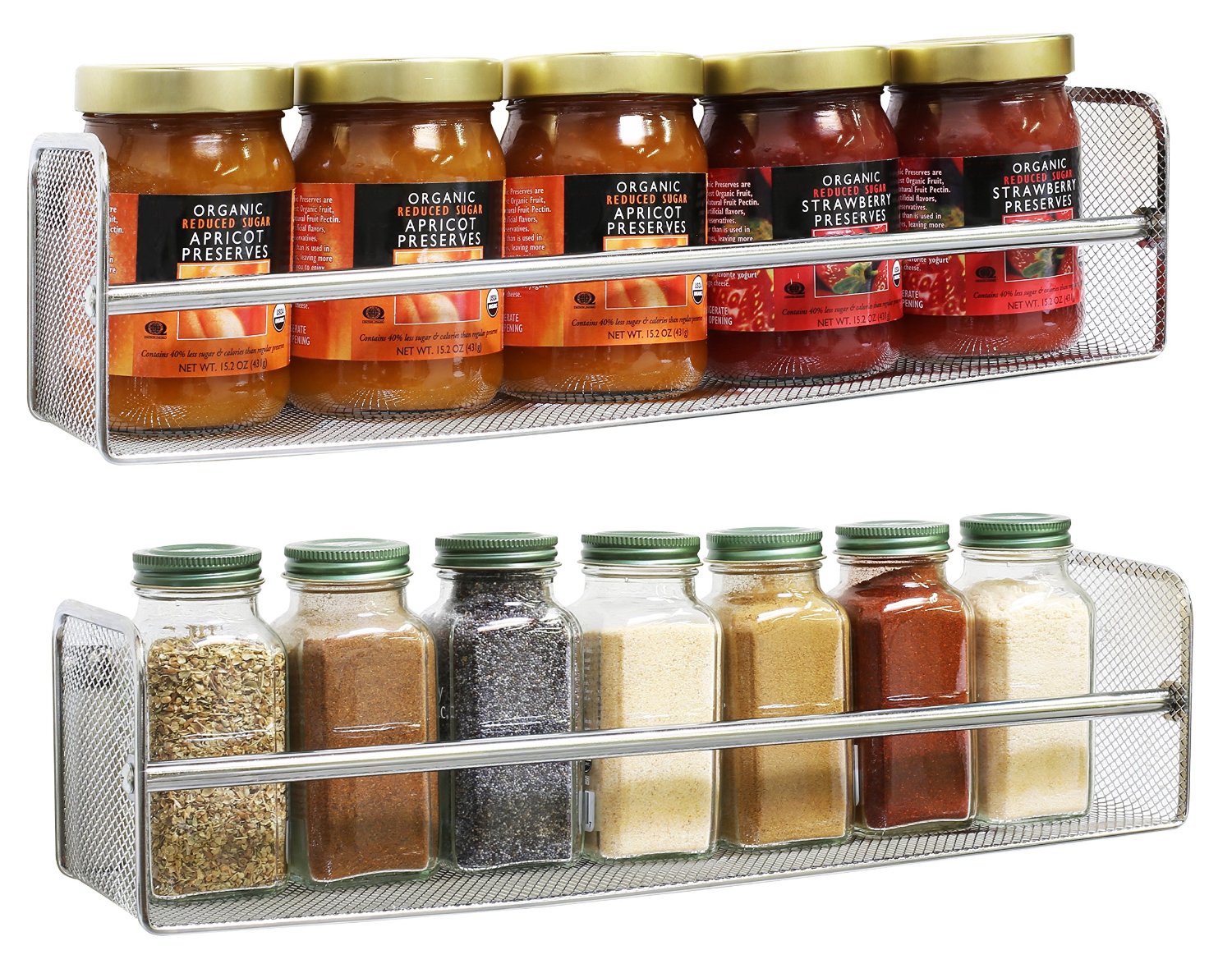 Flexible mounting options
Hold most spice jar sizes
Deep shelves hold up to 3.4" diameter jar
Get It Here
SpiceStack Bottle Organizer
Unlike the previous spice racks this organizer is not mounted on the wall. The SpiceStack Organizer comes in 4 different sizes, 12, 18, 24 and 30 jars. Spice labels are included to make it easy to find the jar you are looking for.
Portable, the whole rack can be taken outside
Multiple sizes available
Multiple colors available
No installation needed
Get It Here
Under Cabinet Spice Rack
This spice rack swings down from below your cabinet to access your spices. The under cabinet design doesn't take away storage space for your spices. This large rack can hold 16 large or 32 small spice jars. The secure latch will remain closed even while traveling. When mounting this spice rack in your RV keep the back is close to the wall. Otherwise small spice jars may be able to slide out when traveling.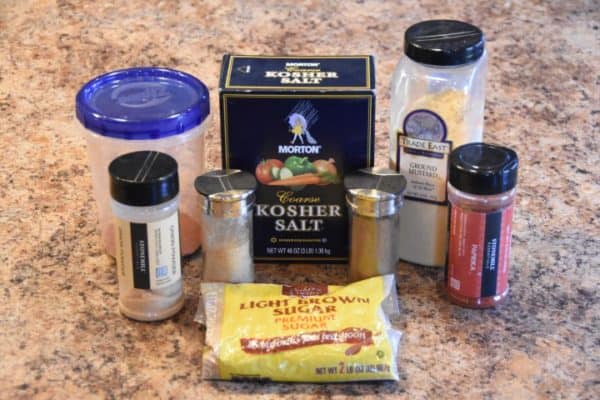 | | |
| --- | --- |
| | |
Mix all ingredients in a bowl and stir using a whisk or fork. The brown sugar should be broken up and mixed in well.

Sprinkle on meat and pat in. For best flavor allow rub to rest on meat for at least 2 hours.

If you make extra store in a plastic container for later.