This article was updated to include the new top pick Bunn MCU coffee maker. The previous K-Cup model was the
Aicok Single serve Coffee Maker
. While still a great option if you are looking for a compact coffee maker the Bunn is much more versatile and brews in 1/3 the time.
Best RV Coffee Maker
The answer to the question what is the best RV coffee maker can depend on many things. What is important to you? Do you want to make a lot of coffee or is a single cup all you need in the morning? Can it take up a lot of space, or do you want a compact coffee maker for your RV? Do you want to make coffee while boondocking without electricity? Here are 5 great models, which is the best RV coffee maker for you?
Model
Top Pick
Bunn MCU
Kuissential SlickDrip
Faberware Stainless Steel 8-Cup Percolator
Bruhen Stainless Steel French Press
Black + Decker Spacemaker 8-Cup
Link
check pricing and availability
check pricing and availability
check pricing and availability
check pricing and availability
check pricing and availability
Type
Countertop
Electric
Countertop
Fire or Stove
Stovetop
Fire or Stove
Countertop
Fire or Stove
Under Cabinet
Electric
Key Features
K-Cup, Pod, Ground Coffee, and hot water in a small package.
Compact size great is great for small RVs or for backpacking
Durable Stainless Steel construction. No additional filters are needed. Works great over a fire.
Durable Stainless Steel Construction. No additional filters are needed.
Large 8-cup carafe without loss of counter space. Easy to use. Programable
Dimensions
9.2" x 13.5" x 16.5"
5.2" x 4.9" x 1.6"
9.2" x 8.7" x 7"
5.5" x 6" x 9"
17" x 12" x 13"
Weight
11.3
0.5
2.2
2
11
Cost
$$$
$
$
$$
$$$
K-Cup and more (My Top Pick)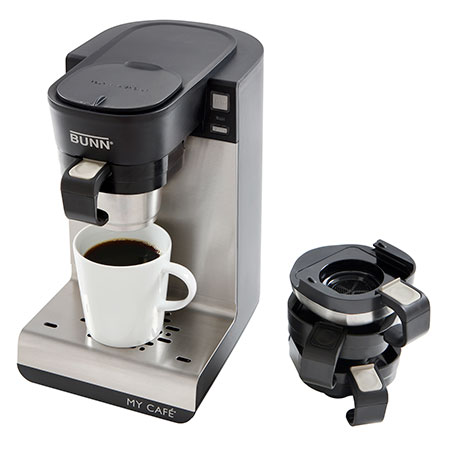 The Bunn MCU Coffee brewer is my favorite electric model. This single cup coffee maker can do it all. You can brew K-Cups, pods, ground coffee, tea bags or dispense hot water. This unit has a simple 1 button design and a clean black and stainless steel design. The single cup design is perfect when you don't want or need to brew a full pot of coffee.
Another feature is the Pulsed Brew option. This allows you to achieve a more robust flavor by slowing down the brewing process.
Once the unit has been filled with water and powered on the internal tank begins to heat the water. When you are ready to make a cup, simply add your coffee and desired amount of water. Then set you mug in place and press the brew button. Your coffee, tea or hot water will be ready in about 1 minute. This is much faster than other 1 cup machines that do not have an internal tank of preheated water.
The hot water cup allows you to dispense hot water. This is perfect for tea, hot chocolate. You could even use it for oatmeal or to warm a baby's bottle.
The only downside of this RV coffee maker option is that the multiple brew heads do take up more storage space. If you only plan to use k-cups or the hot water dispenser for tea and hot chocolate you could always leave the other brew heads at home.
Compact Coffee Maker for RV
The Kuissential SlickDrip – Collapsible Silicone Coffee Dripper is probably the smallest coffee maker on the market. This silicone coffee maker is only 4-1/2" in diameter and when folded up is less than 1" thick. To make your morning cup of joe just open it up add a #2 coffee filter and your ground coffee. You place this coffee maker directly on top of your mug and pour in hot water. If you don't have electricity this one is perfect for you because the water can be heated over a stove or campfire. The downside of this coffee maker is that it only makes 1 cup at a time.
Primitive 8-Cup Coffee Maker
The Farberware Classic Stainless Steel Yosemite 8-Cup Coffee Percolator is a great coffee maker to take camping if you need to brew a whole pot and don't have access to electricity. The percolator design has been used by campers for decades and is guaranteed to make a good cup of coffee. The stainless-steel construction is durable and should last a long time. This coffee pot can be used on a stove-top, grill or campfire so finding a heat source will never be a problem. The only downside of this coffee maker is that brewing your morning coffee can take up to 25 minutes. If you decide this percolator isn't right for you, but you still want a percolator style try to avoid very low cost models. Some of the cheapest models are not designed properly and will boil the water without perking so you will just end up with a pot of hot water.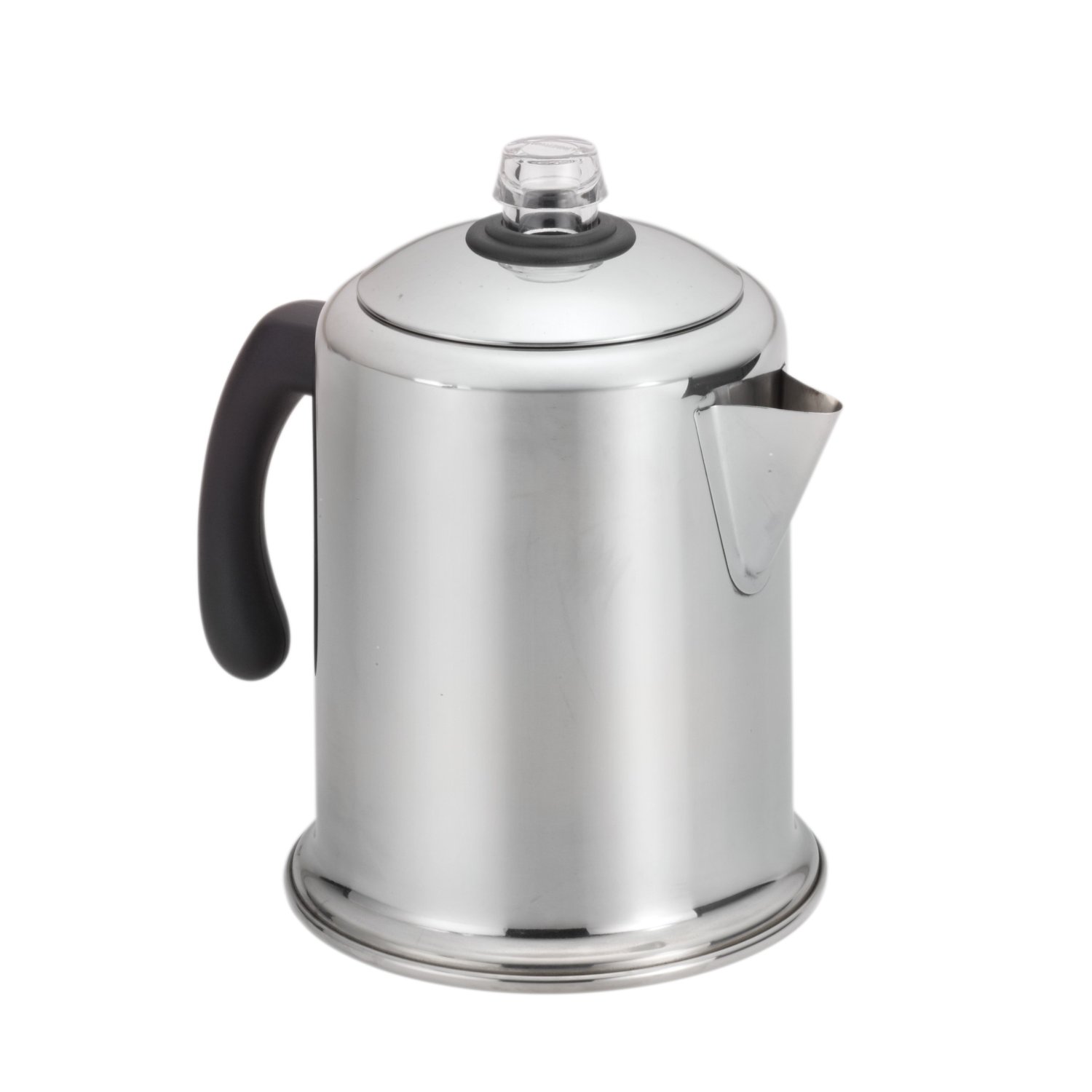 Under Cabinet Coffee Maker
If you are looking for the ultimate in convenience for brewing a lot of coffee and would like to save counter and cabinet space look no further than the BLACK+DECKER SCM2000BD SpaceMaker. This 8-cup programmable coffee maker mounts under the cabinet keeping that limited counter and cabinet space free for other uses. It includes stainless-steel thermal carafe. The stainless-steel carafe will keep your coffee hot longer than glass and if it were to come loose and fall out it won't shatter. The water reservoir is removable to make filling easy. This RV coffee maker can be programmed so your coffee is ready for you in the morning. If you can't wait for the pot to finish brewing the SpaceMaker will stop brewing while you pour your cup and resume once the carafe is back in place. With all the great features the SpaceMaker seems like it was designed for RVs.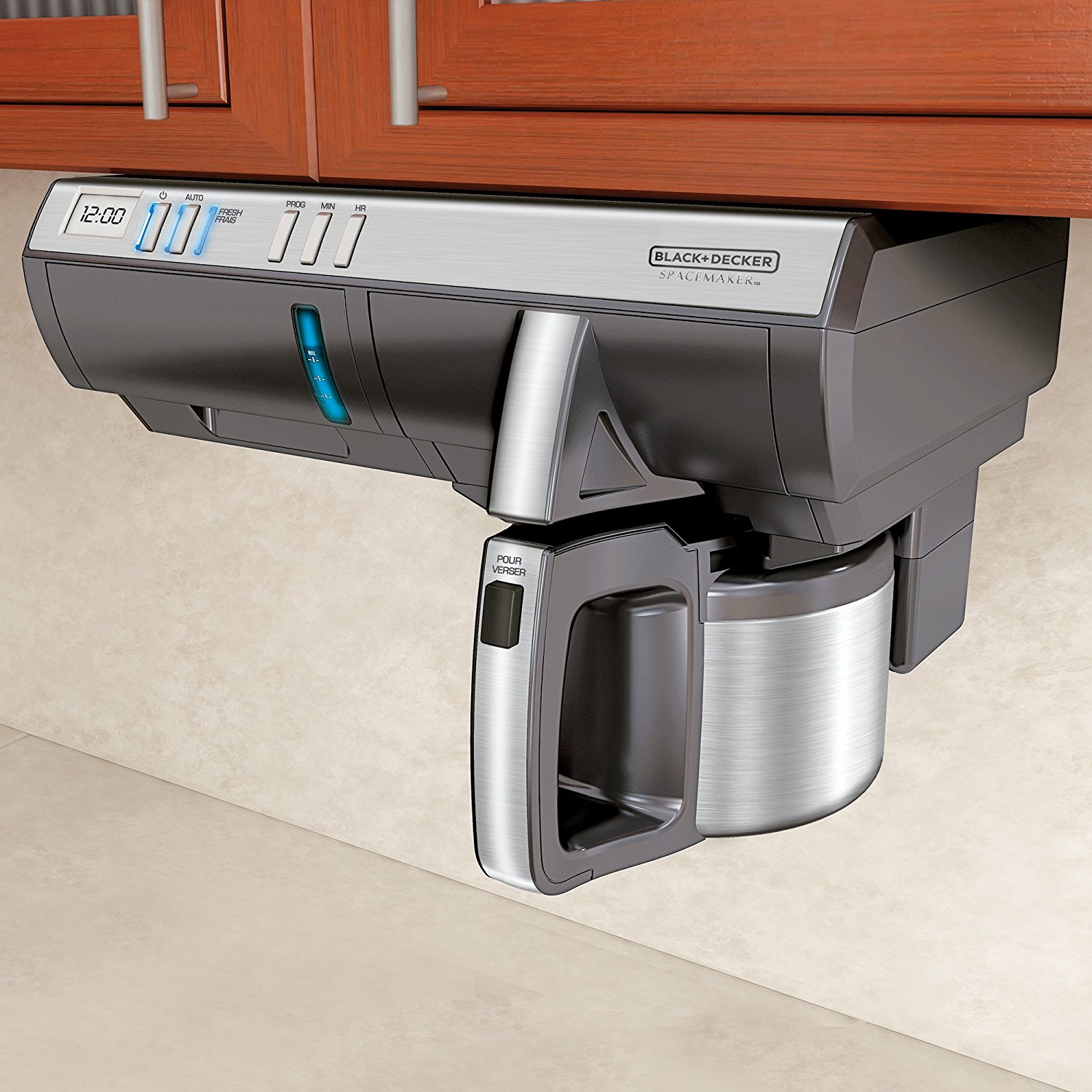 Which is the best RV coffee maker for you?
As you can see there is a coffee maker that will fit just about any situation. Now you just have to decide which RV coffee maker is right for you. I would like to note that there are a few 12V powered coffee makers available. These may seem to be a perfect solution for an RV when you don't have access to 120V power. Most 12V coffee makers have bad reviews because there just isn't enough power available to heat the water fast enough and hot enough to make them work well. I would suggest avoiding the 12V coffee makers if you can.
Good Luck, I hope you start your next morning out in nature with nice cup of coffee.