Stop the Rock & Bounce! Travel trailer & 5th wheel stabilizer system review
Are you trying to figure out how to make your travel trailer more stable?
Do you want your 5th wheel or travel trailer to feel like a house built on a solid foundation, or a boat on the ocean?
If you chose the first option than read on for the best 5th wheel and travel trailer stabilizer systems to "Stop the Rock".
The basics of stabilizing your RV
Your RV is supported by tires and your hitch when traveling. Then the tires are connected to some form of suspension. These air-filled donuts and springs are great for traveling down the road. They absorb the bumps and potholes in the giving you a smooth ride. The problem is they also bounce when your child decides to jump off the bunk bed, or when you make that late-night trip to the bathroom.
To eliminate the bouncing of your RV you need to connect the frame directly to the ground. 5th wheels have an advantage over travel trailers. The landing gear of a 5th wheel contacts the ground in both front corners compared to the single tongue jack on a travel trailer. Most RV manufacturers also include stabilizer jacks on the rear corners, this gives you 3 to 4 points of contact with the ground, not a bad place to start.
If your RV doesn't have rear stabilizers, that should be your first step. These Eaz-Lift scissor jacks can be bolted to the frame of your RV in a couple hours and will make a huge difference. Remember that stabilizer jacks are only meant to STABILIZE your RV and should not be used for leveling.
If your RV is equipped with and auto leveling system you have another advantage. Auto leveling systems apply more of the weight to the jacks, taking bounce out of the suspension and tires.
Now that we have a secure connection to the ground here are some additional systems to stabilize your 5th wheel or travel trailer.
---
Built like a house (Top-of-the-Line permanently attached options)
If you would like the most comfort and stability possible from your RV you need a stabilizer system that permanently attaches to your RV's frame. These systems add an additional link between your stabilizer jack and frame creating a triangle.
To prove the strength of this design just look at a large bridge. The supporting structure is made up of triangles. Think of your stabilizer jacks or leveling system legs as a single beam over a large river, would you drive your car over that?
These 2 systems attach to your front and rear jacks and prevent bouncing and rocking from side to side as well as front to back.
STEADYfast System (1st Choice)
Once installed the STEADYfast stabilizer system is quickly and easily engaged to eliminate bounce and shake from your RV.
The STEADYfast RV stabilizer system includes 3 large heavy duty braces and 4 oversized foot plates to make your RV rock solid. For RVs with self-leveling systems the footplates are replaced by 3 mounting brackets. Once the system is installed it only takes about a minute each time you setup to lock everything in place.
How the STEADYfast system works
The 4 foot plates replace the existing ones on your RV and are larger and self-leveling to provide a secure connection to the ground.
2 braces connect to one of the front stabilizer foot plates. One going from side to side and one going front to back
1 brace connects to one of the rear foot plates.  This brace connects side to side across the back of your RV.
Using the system is as easy as tightening 3 knobs. The knobs are installed near the perimeter of your RV making them easy to access. After your leveling system is complete, or your stabilizer jacks are down, you tighten the locking knob on each stabilizer brace and that's it!
The simple operation of this system combined with the excellent performance is why the STEADYfast stabilizer system is the 1st Choice.
How to get it
The STEADYfast system is available in 2 main configurations:
Customer Comments
"Night and Day" difference
"Best addition to my 5th wheel yet"
Can be installed in 1 day
Great customer Service
---
JT's Strong Arm system (2nd Choice)
This system also is permanently installed on your RV to stabilize and eliminate bouncing and shaking. This system is designed and built by Lippert, the same company that makes most travel trail and 5th wheel frames.
The JT's Strong Arm system comes with 6 stabilizer tubes (smaller than the STEADYfast tubes) and the hardware required to connect them. Once installed the only thing to do at camp is lock each of the tubes.
How the JT's Strong Arm system works
One end of each stabilizer tube bolts to your RV's frame, the other end connects to your existing jacks using the included hardware.
2 stabilizer tubes attach to each of the front jacks, one going side to side and one front to back.
1 stabilizer tube attaches to each of the rear jacks going from side to side.
Rear Jack Notes
If you do not have a frame rail between your rear jacks you will have to install a piece of angle iron across the bottom of the RV to attach the stabilizer brackets. Additionally, some types of rear jacks require additional brackets to install the system. The system does not work with BAL 24028 LoPro Scissors Jack
After the system is installed and your jacks have been lowered all you have to do is tighten the t-handle located in the middle of each stabilizer tube. If you don't want to crawl under Your RV to tighten the rear stabilizers Lippert offers a tightening tool that allows you to reach the handle.
Even though the Strong Arm stabilizer system works well, it earned the second place spot because the system requires 2x as many stabilizer tubes to be installed and locked in place.
How to get it
Jt's Strong Arm system is available in 3 main configurations:
Customer Comments
Stabilizes camper better than tripod
One of the best modifications
Easy enough for do it yourselfer to install
Manual and support could use some improvement
---
Dampen the waves (less expensive options)
Not interested in installing a permanent system on your RV, but still want to stop some of the bumping and shaking? These options don't have any installation time, but they do have to be setup on each trip.
5th Wheel Tripod (king-pin stabilizer)
For 5th wheel owners looking for additional stabilization that is easy to setup, the BAL FastJack is a great solution.
The FastJack king pin stabilizer is tripod that is located between the ground and your RV's king pin. This model can adjust from 40" to 60" and only weights about 15 lbs.
The setup process is quick and easy, the tripod slides over the king pin and is then locked in place. Next you spread the legs. Finally each leg is extended independently to allow for uneven terrain. Last you use the ratchet handle on each leg to tighten them. The entire process only takes about 2 minutes.
Prevent tire movement (BAL X-Chock)
As we discussed earlier tire movement is great when you are driving down the road, but when you are camping tire movement adds to the bounce and shake. Simple tire chocks will stop your camper from rolling away, but this chock eliminates almost all tire movement.
The BAL X-Chock is placed between the tires of your travel trailer or 5th wheel, then using the included ratchet handle, you tighten the X-Chock to lock the tires in place. The X-Chock is another simple, yet effective stabilizer that requires little time to install and easily stores away when not in use.
Valterra RV Stabilizer
The Valterra RV Stabilizer is a great stabilization option for both 5th wheels and travel trailers. The simple design of this product allows it to store compactly and be easily setup in only a couple of minutes. The stabilizer adjusts from 14" to 28" high and can support up to 250 lbs. The lightweight aluminum design makes it easy to store and setup.
The stabilizer is made of an aluminum cross member that presses against the frame or bumper of your RV. The two legs fold down and are connected together by a ratchet strap. Also included is a storage bag.
Multiple stabilizers can be used to get eliminate wobble in your RV. Once recommended configuration is to place 1 stabilizer under the rear bumper and a second near the entrance step to eliminate the bounce when entering and exiting your RV.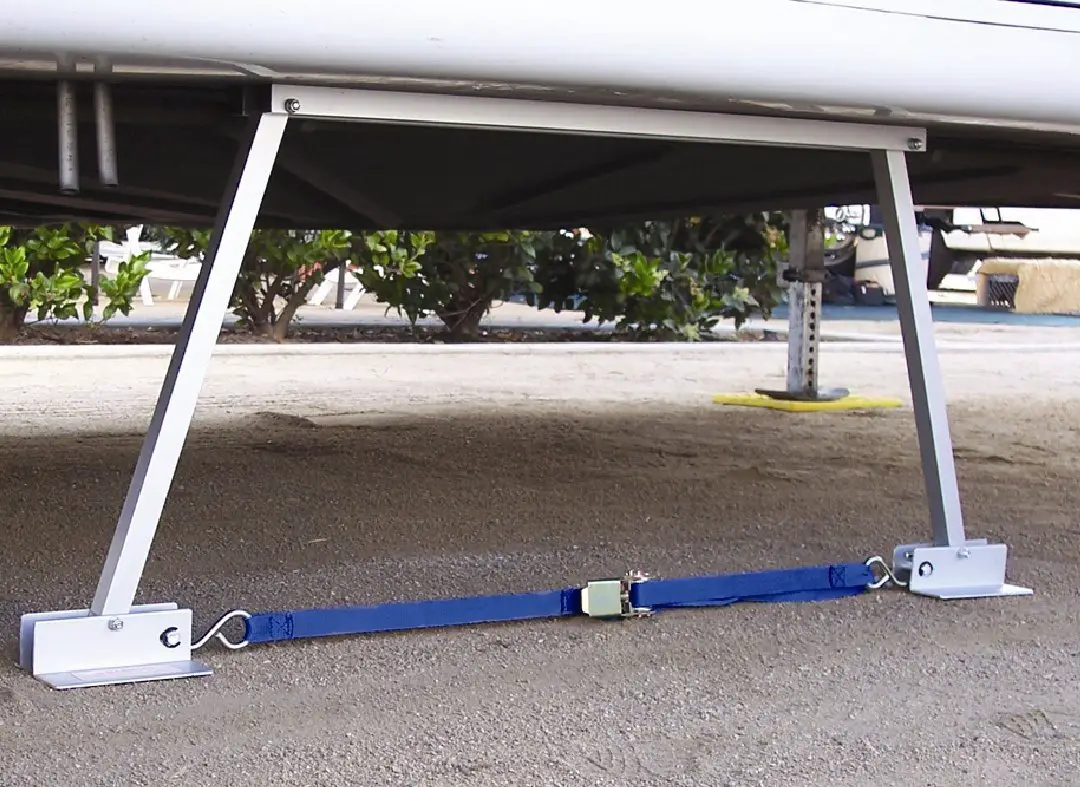 This video from Valterra shows the RV stabilizer as well as some other RV leveling equipment.
---
Make the most of what you have (stabilizing accessories)
No matter what you use to stabilize your RV there are a few accessories that can improve the performance of your equipment, or make setup easier.
Stop the bounce when entering you RV
If you are looking for a way to stop the bounce when using your RV's entrance steps the Camco Self-Stor Step is the perfect solution. You mount this stabilizer to the bottom of your entrance step. After folding your steps out flip it down and spin to adjust the height to support your steps. When you are ready to leave flip it back up and it's ready for next time.
The stabilizer adjusts from 8.5" to 14" so make sure to measure your steps before buying, it may be too tall for some shorter RVs.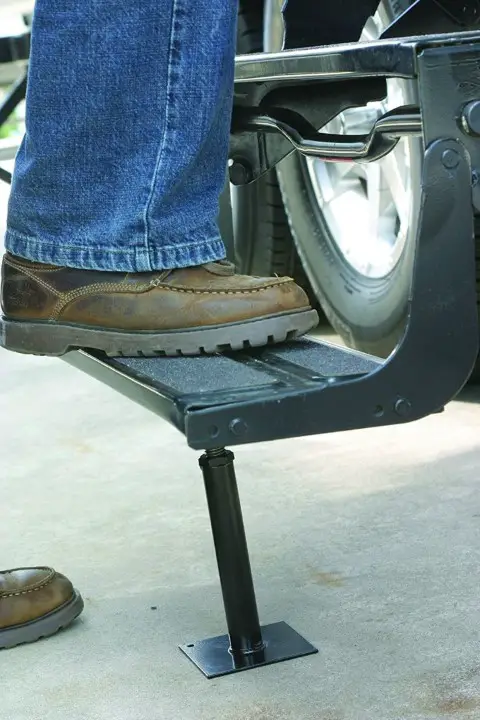 Get your jacks on a firm foundation
Your stabilizer and or leveling jacks won't do much good if they don't reach the ground. They also won't help much if they sink into soft sand or wet soil.
Bigfoot Outrigger Pad
The Bigfoot 12" x 12" outrigger pad is made from 2" thick UHW plastic and does a great job of giving your jacks a firm footing even on soft terrain. The rope handle makes it easy to use, and the composite plastic is easy to clean and wont rot or split like wood.
Click here to get the Bigfood Pad on Amazon
Tri-Lynx Levelers
The Tri-Lynx levelers have many uses for leveling and stabilizing your RV. You can stack them in a pyramid shape to drive onto to level from side to side. The also make a great base for your jacks. I always stack a few under each jack to shorten the extension making the jacks more stable. Flat caps are available for the levelers to give your jacks a large flat surface to land on.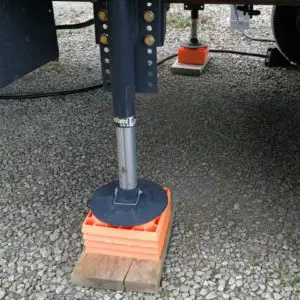 Click here to get the Levelers on Amazon
Click here to get the Flat Caps on Amazon
Wrap-Up
When it comes to stabilizing equipment for your RV the best place to start is to decide what level of comfort and convenience you want.
If you want your RV to feel a stable as your "sticks and bricks" home, then I recommend the STEADYfast system and then maybe add the Self Store Step.
If you are just looking to firm things up a little bit, start with the X-Chocks, then you can add the Self Store Step, Valterra Stabilizer, and or FastJack king pin tripod.
If you have any questions or your own tips for stabilizing your RV, please leave them in the comments below.
Thanks for reading and enjoy your next RV Adventure