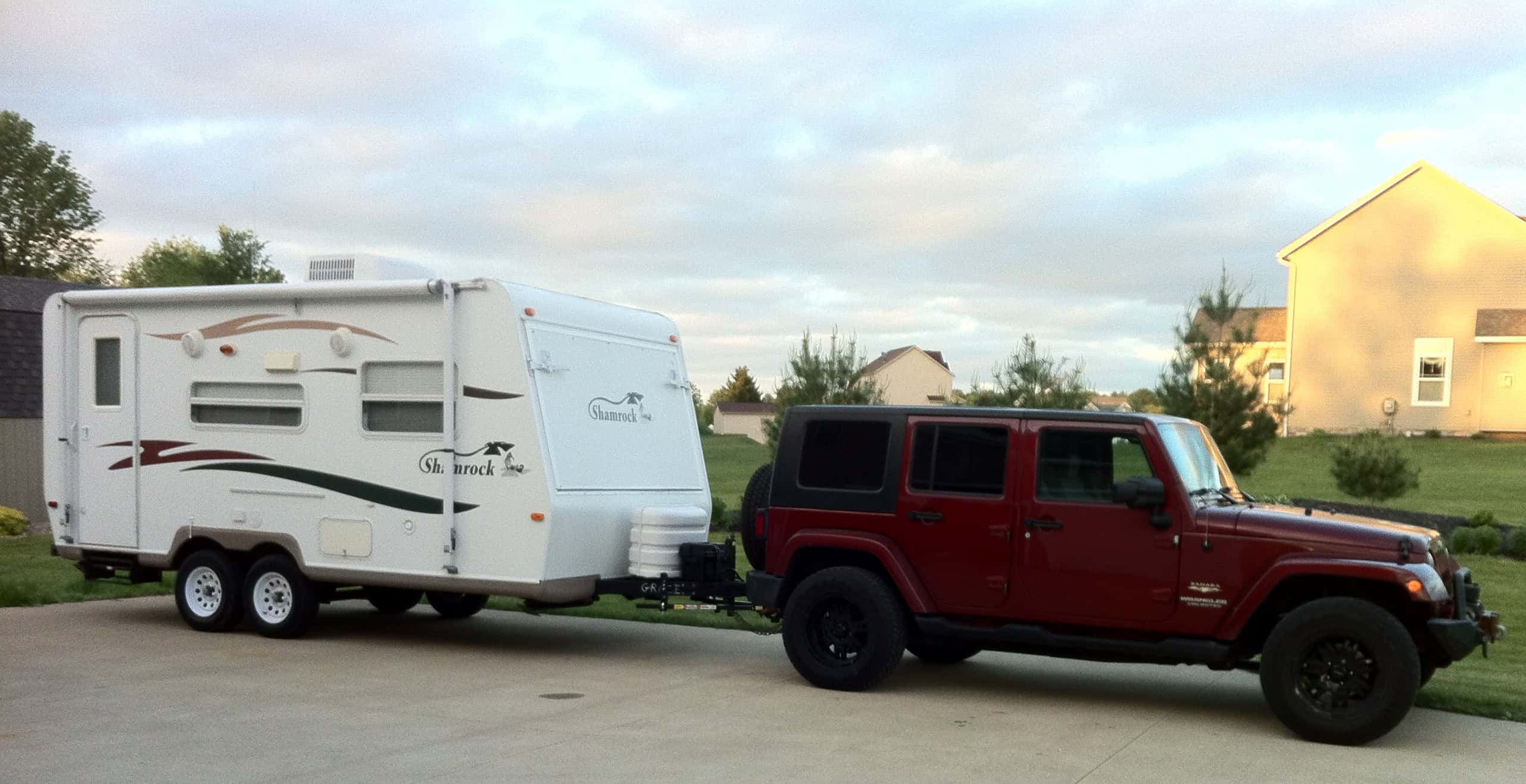 In April of 2013, we decided to upgrade from tent camping to an RV but weren't sure where to start. We knew we were limited in our options because our tow vehicle was going to be my 4-door Jeep Wrangler. We decided to stop by a nearby RV dealer and see what our options were and more importantly how big of an investment we were going to have to make.
We told the salesman we would like to see some used pop-up campers because we knew our Jeep couldn't handle a full-size travel trailer. The salesman informed us that they only had a few pop-ups on the lot, but we might be interested in some hybrid campers they had. I had never heard the term "hybrid camper", but we said sure.
We approached what looked like a short travel trailer, with the beds of a pop-up camper sticking out of each end. Could our little Jeep pull this thing, how much would something like this cost? We walked inside and I realized that this is what I wanted. A hybrid camper gives you all the amenities of a full-size travel trailer, but in a smaller package. It had 2 queen size beds one for us and one for the kids. It also had a nice size refrigerator, a microwave, stove and a separate bathroom with a shower!
After walking through a couple different hybrid floor plans we made our way to the pop-up campers we had originally wanted to see. Before I even stepped foot into the first pop-up I knew my decision was made, we were going get a hybrid.
We made our way back inside and the salesman discussed prices and financing options, then we thanked him and went on our way. Although we knew we enjoyed camping we still weren't sure how much use we would get and didn't want to make too big of an investment. We decided that we should look for a used hybrid to keep the cost down.
After about a month of looking visiting all the local dealers and searching RV Trader and Craigslist, we finally found the one on. It was a 2008 Forest River Shamrock 19M. The owner had passed away and his children we selling the camper. On May 1st 2013 I went to check it out and it looked brand new! I discovered it was purchased so the owners family could join him while he camped in his 5th wheel, but that never really happened. It had only been used a hand full of times. We negotiated the price and a few days later I was driving home with my first RV.
On the way home I realized that although the 19 foot camper was just within the limits of the jeep it was a lot for my jeep to pull and I would need some upgrades. The addition of a brake controller, air bags for the rear suspension and a weight distributing hitch made a huge improvement in the towing experience.
For the next 3 and a half years we made many great memories in that camper. We traveled around to campgrounds in Ohio, Pennsylvania, Indiana and 1 trip to Pigeon Forge Tennessee. In that time we upgraded our tow vehicle from the Jeep to a ½ ton truck then to a 1 ton diesel. Although our Shamrock 19 was a great camper, every campground we went to we would walk around and "window shop" looking at all the options out there. By the end of the 2015 season we decided that our son and daughter were getting too big to share the bed. With the tow vehicle no longer being a limitation and the confidence that we would get plenty of use out of our next camper we started looking bigger.
Tips for buying your first RV
Go to a dealer first
When buying your first RV you probably won't know where to start. I hadn't heard of a hybrid before visiting the dealer. Walk the lot and check out as many RVs as you can big, small and everything in between. This is the best way to decide what you really like.
Make a list of the features you must have
After visiting the dealership you know what is out there. Now you need to decide what fits you and your family. Bunk beds, outside kitchens, a door to the bedroom or a curtain? Also, decide how big of an RV you want and where you will take it and store it. Will it fit in your driveway, how much can you tow, does it just feel too big or small? After walking through a 43 ft fifth wheel that my wife and I loved the floorplan on we both said it felt too big.
Look online for a floorplan that matches your must have list
All the RV manufacturers have their floorplans listed on their websites, check them out and decide which ones work for you. Make a list of several makes and models you like.
Find your RV
There are many places to look for your RV. Start by searching the internet some great places to look are craigslist, RVtrader, and the local dealership websites.
Don't be afraid to buy used
Many used RVs are in great shape because they were purchased and only camped in a few times so don't be afraid to look at the used market, you can save a lot of money compared to buying new. If you do buy a new RV don't be concerned if you have to get repairs done right away. RVs are not like cars most have some "bugs" that need to be worked out after leaving the factory. Just make sure to get those items taken care of soon. Most RVs only come with a 1 year warranty.